Hands-On Review of Manara Hot Cleansing Gel, Japan's Bestselling Self-Warming Cleanser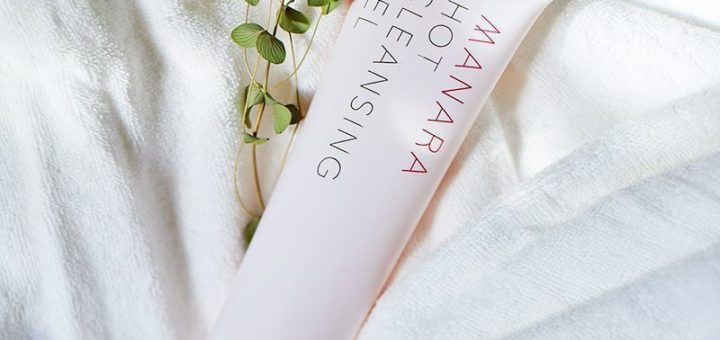 Manara Hot Cleansing Gel is the bestselling self-warming cleanser in Japan, and is just growing more and more popular with our customers overseas, too. Made of 91% skincare ingredients, this one-step, makeup-removing cleanser has anti-aging, brightening, and pore-minimizing effects. Does it live up to its promise? Read on for ingredients, how to use, and our hands-on impressions.
---
Manara Hot Cleansing Gel Product Details
Manara Hot Cleansing Gel comes in a 200g bottle, with enough product to last two months of nightly cleansing. As a rule, mid to higher-range Japanese cleansers come with around 100g of product, and considering this cleanser can replace both steps, it works out to be fairly economical.
Here are the product features from Manara:
Removes black-colored impurities from deep within the pores:

.

 The gel particles have been reduced to 1/30th the size of earlier products so that they are able to penetrate even more deeply into the pores.
Contains a new pore-clearing ingredient:

.

 This ingredient targets blackheads, enlarged pores, and sebaceous filaments by inhibiting the production of "bad sebum" which is the core of pore issues, while increasing the production of naturally moisturizing "good sebum".
Warming effect:

.

Self-warming formulation helps open the pores for a deeper clean.
Collagen boosting, brightening, and moisturizing ingredients:

.

Leaves the skin cleansed yet moisturized. Boosts the absorption of any following skincare steps.
---
Manara Hot Cleansing Gel Ingredients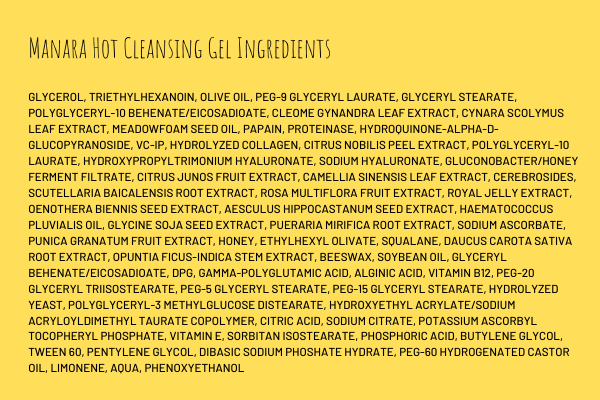 Another notable feature of Manara Hot Cleasning Gel is its ingredients list. It features six ingredients to leave your skin moisturized post-cleansing (ceramides, royal jelly extract, hyaluronic acid, squalane, honey, and polyglutamic acid), and six collagen-boosting ingredients (super micro collagen, soy seed extract, pomegranate extract, pueraria mirifica root extract, evening primrose extract, and horse chestnut.)
Finally, tea and yuzu extracts, oil-soluble vitamin C derivative, fermented rose honey, and hydroquinone derivative help to brighten the skin.
Manara Hot Cleansing Gel is free from colorants, artificial colors, mineral oil, petroleum derived surfactants, alcohol, parabens, and chemical sunscreens. However, it does contain both collagen and honey, so it may not be suitable for vegans.
---
How to use Manara Hot Cleansing Gel
For best results, first remove any waterproof eye makeup like mascara and eyeliner with a specialized cleanser.
Dry the face of any sweat or previous cleansers (for example eye makeup remover). Dispense the product into dry hands and soften by gently rubbing the palms together.
Apply the product to the whole face and then work to dissolve any makeup by rubbing gentle circles.
Rinse with lukewarm water.
As you can see, it's best to keep your hands and face as dry as possible when using the product. However, being in a humid environment will help boost the warming effect, so using it in a steam-filled environment like after a bath or shower can help generate more pore-opening heat.
---
Hands-On Impressions
To review this cleanser, I used Manara Hot Cleansing Gel to replace my regular nightly cleansing routine. (At the moment, this is usually Fancl Mild Cleansing Oil and Rosette Cleansing Paste).
Scent and texture
The product itself is quite thick, with a slightly tacky, wax-like texture that melts to a thick oil texture as it warms on the skin. It's bright orange in color, and the citrus extracts gives it a noticeable but natural citrus smell. To me it smells basically identical to smelling the peel of an orange. Personally, I found the fragrance pretty natural, but if you're very sensitive to scents do be aware that while it's free of artificial fragrances, it's not unfragranced.
The texture itself, once melted, was easy to apply. It's just viscous enough to not drip or run, but is smooth enough to cause no tugging or resistance. The gel doesn't sink in or ball up, so you can massage it in as long as you need.
Heating effect
While I've used warming cleansers before, I was honestly shocked at how hot this cleansing gel got, and how quickly. It never got to the point of being uncomfortable, but the first time I used it, it was a bit of a surprise because it was so sudden and I wasn't sure exactly how hot it would end up getting. In the end, the heating effect tapers off at around the temperature of a fairly warm bath.
I found out from Manara's website after that the formula reacts with humidity to produce its heating effect. Since I tested this product in a steamy environment while running a bath, it turns out it was the ideal condition for getting the most out of the heating effect. So, if you're having a less noticeable effect in a drier climate, consider adding some steam to the mix!
Finish and makeup removal
I found the Manara Hot Cleansing Gel dissolved quickly and cleanly, and left my skin feeling as hydrated as promised with no dried-out or stripped feeling. I didn't find any makeup residue coming away after using a wipe-off AHA toner after, so I can safely say that the Manara Hot Cleansing Gel is safe to use as a one-step cleanser without removing makeup first.
Even though the instructions said to use a dedicated eye makeup remover before using Manara Hot Cleansing Gel, I also tested this cleanser to see how well it would work against waterproof eye makeup. It didn't immediately dissolve my waterproof mascara like an eye makeup remover did, but I found just gently applying some product to the lashes and leaving it a minute or so while I dissolved the rest of my makeup removed it just fine. Obviously, if you wear quite heavy-duty eye makeup you'll want to start with a proper makeup remover. Generally speaking, though, I think Manara Hot Cleansing Gel actually works better than advertised for makeup removal — which is rare!
---
Recommendations and Conclusion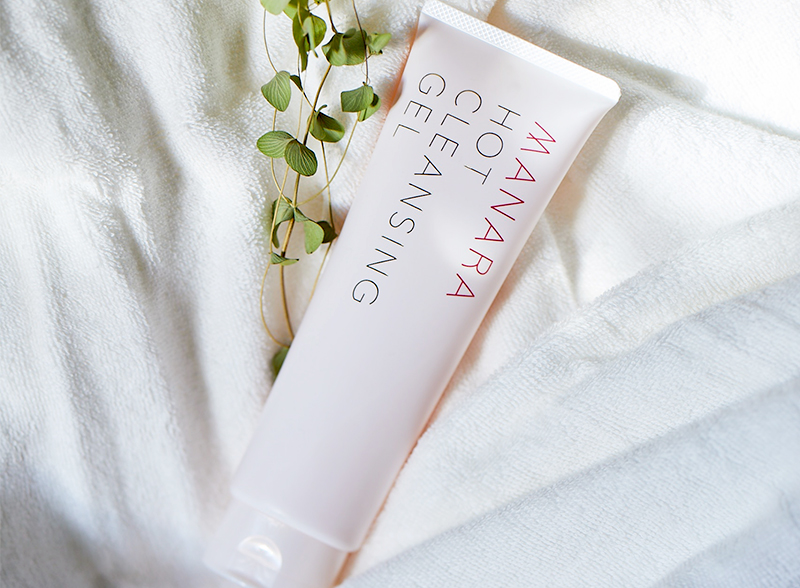 I wasn't surprised to like Manara Hot Cleansing Gel: it's so popular here in Japan and with our customers that I was fairly confident in its abilities. What did surprise me was the strength of its warming effect and how well it removed even waterproof makeup.
The Manara range is particularly popular as an anti-aging treatment, so I would recommend this cleanser for anyone with mature skin, particularly if you'd like the idea of optimizing your routine with a hydrating cleansing step. It would also be perfect for anyone who wants to fit all the benefits of makeup removal, oil cleanse, second-step cleanse, and pore treatments into one. Of course, with colder weather approaching, I personally appreciated the comforting warming sensation after coming in from a day of dry air and cold winds.
If you're interested in checking it out for yourself, we can send Manara Hot Cleansing Gel all over the world, with free fast shipping over S$90! Check us out here:
If you're interested in more Japanese pore-minimizing cleansers, check out our roundup here!