Let Spring In! Japan's Best Cherry Blossom Cosmetics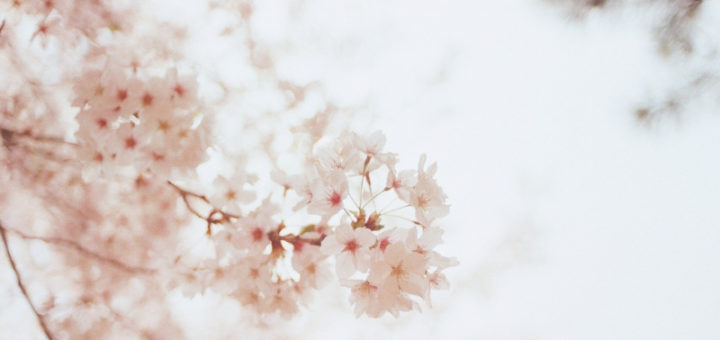 My anticipation for sakura season couldn't be higher here at the torturous end of winter in Kyoto. Between the grey, rainy days and freezing cold nights, I'm ready for a picnic under some falling petals right about now!
It seems to be a common feeling, because this is the time of year that Japan's cosmetic companies start launching a non-stop succession of cherry blossom-themed products. This time last year my house was filled with sakura-themed products, from bath salts to fabric softener, so writing this article is a little risky for me, financially-speaking.
Let's venture forward into spring with some of the best limited edition sakura products out there!
---
Fancl x Mika Ninagawa Spring Series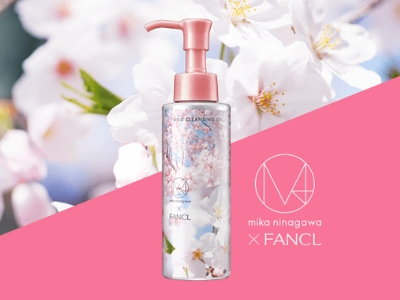 Mika Ninagawa is one of the most beloved photographers in Japan, and her collaborations with Fancl in 2018 were definite hits. For spring Fancl is going all out with beautiful limited edition packaging.
First up, limited edition Fancl Cleansing Oil gets a gorgeous revamp with packaging featuring Mika Ninagawa's photography and sakura-pink detailing. Their Aqua Serum Rouge in shades Apple Red and Strawberry Pink are also redesigned to match.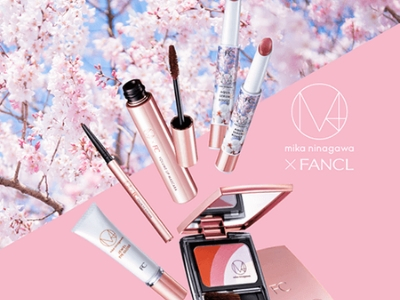 Their Styling Cheek Palette features orange and pink blush shades and lavender and pearl highlighters for an instant spring glow. Following the theme, the highly limited edition Jewel Eye Gloss comes in shades aurora brown, aurora pink and aurora gold, which can double as a highlighter.
Matte eyeshadows in subdued shades have been the trend in Japan over the winter, and I get the sense that we're all ready to dust things off and embrace this translucent, dewy look for the change of season.
---
Ettusais Sakura Line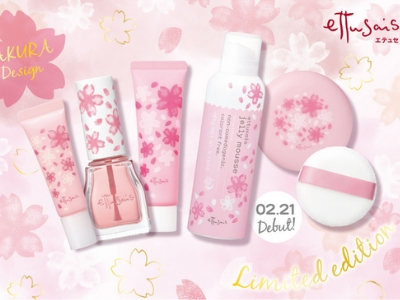 Ettusais had some big hits last year for their well-formulated primers and base makeup. Last year their Lash Version Up mascara primer entered @cosme's hall of fame, and their Oil Block Base mattifying primer remains hugely popular. Their limited edition cherry blossom-themed lineup consists of new Gel Mousse N cleanser, Skincare Powder, Quick Care Cream, and Lip Essence A. They all come with adorable pink packaging and sakura fragrance!
Their Sakura Lip Essence A moisturizes and provides UV protection to the lips while giving you a natural, cherry blossom pink and a pretty gloss. Many of us forget about how important SPF is in lip products, so this is a perfect choice as we emerge from winter hibernation and spend some time in the sun!
Browse the Ettusais range here!
---
Suppin Powder Limited Edition Sakura Fragrance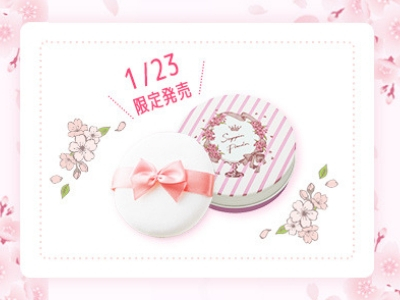 I'm a big fan of Club Cosme's Suppin Powder, and have just about run out of my current tin (which is saying something, because they are huge!) The limited edition cherry blossom fragrance is only around for spring, so this one is definitely on my to-buy list.
Suppin Powder is made from powdered skincare ingredients like hyaluronic acid and squalane. This means you can it wear day or night without needing to wash it off like regular cosmetics! Suppin Powder also protects the skin from dehydration and environmental irritants like dust and pollution.
I love using this when I need to quickly duck out to the post office or store. You can put it on for a natural bright, matte look, and since it's actually powdered skincare, you don't need to wash it off! It's also great at night after your skincare routine, or in summer for an instant refresh when you're not wearing makeup. It comes in a huge tin with a large puff, and doesn't contain any pigments that will stain your clothes, so it's great for body makeup, too.
Browse the Club Cosme range here!
---
Shiseido Elixir Superieur Sleeping Gel Pack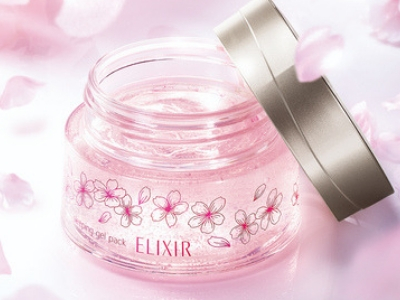 I'm starting to see more and more interest in sleep masks online recently in the West, but they're already fairly common here in Japan. If you haven't used one before, you might be surprised at what a difference they can make.
What is a sleep pack? You might already use something similar! They are a protective and hydrating final layer that seals in your skincare as you sleep. If you use a heavier night cream as your final step, you are probably getting a similar effect.
For spring Shiseido has reformulated its hyper-popular Elixir Superieur Sleep Pack with sakura fragrance and a pink theme. The Shiseido Elixir Superieur Sleep Pack is very popular for its gel formulation, which gives you all the hydration and protection of a thicker, emollient style cream. It's kind of like a no-mess sheet mask you can wear to bed. The standard Shiseido Elixir Superieur version is the bestselling sleep pack in Japan, but you can't get this limited edition version forever!
---
Botanist Bloom Series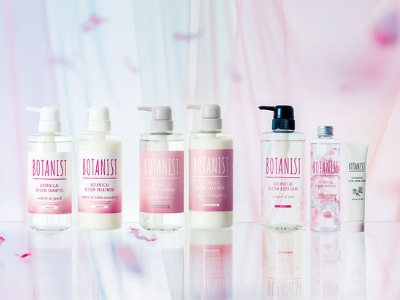 Botanist's sakura themed range must be the most elaborate I've seen so far, with four ranges designed around the different stages of blooming sakura. 
Looking forward to the spring air fluttering through your hair? First Bloom is a lightweight smoothing range, designed to invoke a the image of newly-budding sakura. The shampoo comes with a sakura and peach fragrance , while the treatment is sakura and white strawberry.
Night Bloom is a moisturizing range designed around the dazzling image of sakura at night. In Japan, sakura season is when many people start school or new jobs. To help, the moist version is designed to give you a hydrated, frizz free finish. Perfect for making a neat first impression.
ReBloom is damage-repair line, perfect for anyone challenging themselves new spring perm or hair color. The shampoo features a sakura and cherry fragrance, while the treatment comes in sakura and raspberry.  
Finally, Full Bloom is a range of body products including body wash, gel and hand cream. The entire Full Bloom range comes in a lovely sakura and rose fragrance.
We have the whole range to buy individually or in sets, plus many many more Botanist shampoos and conditioners.
Browse the full Botanist range here!
Want to know more about the Botanist line? Check out my recent review of the Botanist Scalp Shampoo here!
---
These are just some of the sakura-themed products hitting the shelves here in Japan. Of course, we're doing our best to have everything available at Wonect.com!
Until next time, please stay warm!