Fancl Reset Powder Review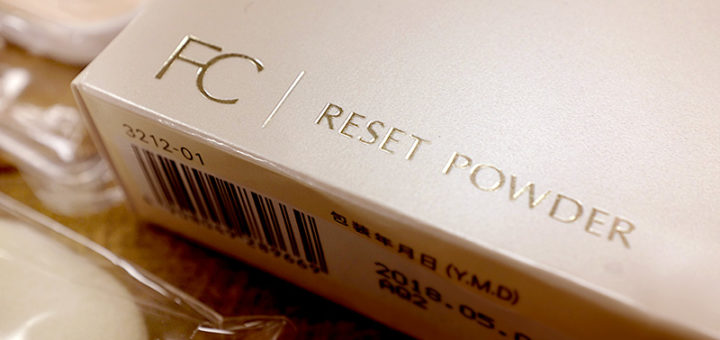 Fancl is a really popular choice among our customers here at Wonect, and for good reason. They make good quality, preservative free-formulations that are gentle enough for all skin types. They may be best known for their skincare line, but they also have a good amount of well designed cosmetics as well.
Today I'm looking at the Fancl Reset Powder, a pressed finishing and touch-up powder.
To start off with, here's what Fancl has to say about it!
This pressed finishing powder bright finish with one coat, even over patchy or creased makeup. Our unique complexion-evening technology gives a clear and refreshed look to the skin. Formulated using our own skin-perfecting veil, which evens the distribution of moisture in the skin. A combination of red, yellow, and white pearlescent powders gives a beautiful look and gloss to the skin. This powder can be reapplied without looking powdery or uneven.
Full disclosure, over the last week I've been dealing with somewhat of a makeup emergency. I suspect it's to do with the winter heating, but no matter what I wear, my makeup lasts barely two hours before starting to go noticeably patchy, cakey, and uneven. Nothing works to fix it, and I'm about at my wits end. This review has come at the perfect time, and I'm very, very invested in Fancl's claims here! 
---
What's in it?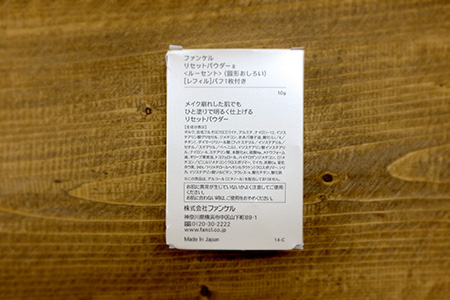 Talc Powder, Synthetic fluorphlogopite, Alumina, Nylon-12. Glyceryl isostearate, Dimethicone, Buxus Chinensis Oil, Titanium(IV) Oxide, Isostearyl Isostearate, Nylon-6, Stearic Acid, Aluminum hydroxide, Sodium sulfate, Meadowfoam Seed Oil, Olive Oil, Vitamin E, Hydrogen Dimethicone, Dimethicone/Vinyl Dimethicone Crosspolymer, Mica, Calcium Carbonate, Boron nitride, HDI/Trimethylol Hexyllactone Crosspolymer, Silica, Sorbitan isostearate, Laureth-4, Titanium(IV) Oxide, Iron Oxides, Behenyl Dimer Dilinoleate
Looking at the ingredients list on CosDNA, there were no ingredients that jumped out as with safety concerns, which is to be expected of Fancl. Isostearyl Isostearate and Laureth-4 both were flagged as moderate acne triggers. I can't see mentions of breakouts in the reviews online, but even at my advanced age I am still fairly acne-prone, so I'll make myself the guinea pig and keep an eye on whether or not it's an issue.
---
Packaging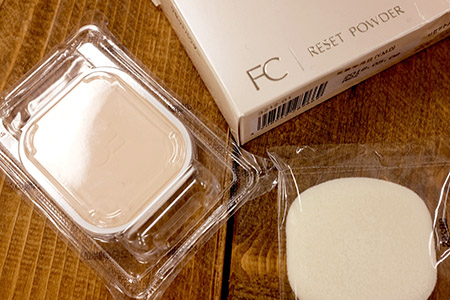 Fancl Reset Powder itself is sold separately from the matching case, which fits their powder foundations as well as this Reset Powder. Unfortunately I wasn't able to get my hands on the case in time for this review, so I'll just talk about the powder itself. It comes in a cardboard box with a gold pearl finish. Inside, you get the powder itself, a puff, and a small plastic insert. You can place this between the mirror and powder in a case to protect it. It's just the sort of useful item I would lose in record time, but for those more careful than me it's nice to have around.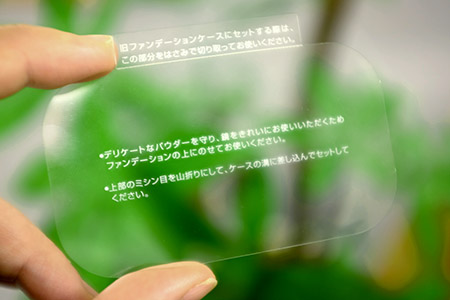 All of Fancl's products are preservative-free, which means you need to be a little more careful about the expiry dates. Fancl Reset Powder powder comes sealed with a peel-off backing for freshness. It will remain fresh for a year after breaking the seal, which is completely acceptable. I wouldn't recommend using any cosmetic for longer than that anyway.
One last note about the packaging: the date printed on the box is not the expiry date, but the date it was packaged. The product will remain fresh for three years after that date if left unsealed.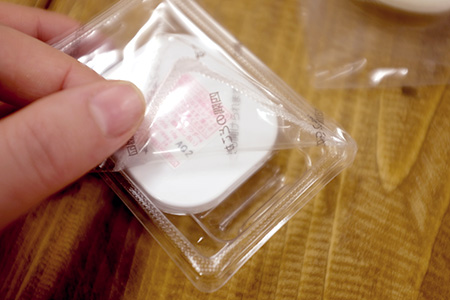 ---
Color guide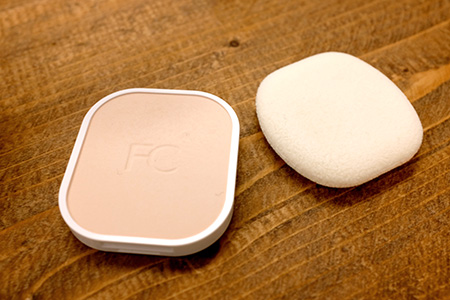 My first impression was that it this powder has a somewhat pink undertone, but when applied to the skin it was fairly neutral in color. For reference, my skin is fairly light with a neutral undertone. The shade of the powder fit me just fine, even though the color looked a little deep in the pan. The finish is a forgiving, translucent effect that is appears to be more about textural correction than providing coverage. That said, it is designed for the somewhat homogeneous Japanese market, which unfortunately means this may not flatter darker skin tones.
---
Testing Fancl Reset Powder
Here is an image I took to test the coverage, with the powdered side on the left. As you can see, it is quite subtle in the photo. In person, the powder lent a very flattering, soft look to the skin. I was surprised to see that it did provide more coverage than I was expecting, and that the finish was just as nice as Fancl claimed.
For my first test, I tried it over my disastrous makeup to test its ability to "reset" your finish. While it didn't magically redo my makeup the way I was dreaming, it did seem to improve the uneven look better than other powders I have tried. Strangely enough, the finish seemed to get better with time. When I checked out my makeup about an hour after applying it, the effect looked better than it did when I first applied it.
For my next test, I decided to use Fancl Reset Powder to set fresh makeup. Because I am a dedicated reviewer, I applied half to just one side of my face. The effect was even better this way. Strangely enough I could actually feel the difference on the Fancl side. While the unpowdered side felt physically uncomfortable as the makeup started to crease and settle in my pores, the Fancl side felt fresh and looked perfectly acceptable.
---
Want to know more about Fancl?
I am quite impressed with this powder, and it came just at the right time! Once I get my paws on a case it may well replace my current winter go-to, the Canmake Marshmallow finishing powder. If you are having makeup finish issues like me, I highly recommend giving it a try. Even if your skin chemistry isn't currently proving toxic to all known makeup formulations, this is a great way to maintain your finish. Plus, it gives a very pretty look with just the right amount of dewy glow. And, if you're looking for a preservative and additive free pressed powder, this is a high quality choice.
I hope this review helped you choose your next pressed powder! Do you know of an industrial-strength foundation that won't betray me like my entire stash currently is? Let me know in the comments! And as always, feel free to get in touch with us at Wonect with questions about Fancl or any Japanese cosmetics!