Ichiran Ramen Take-Home Kit Review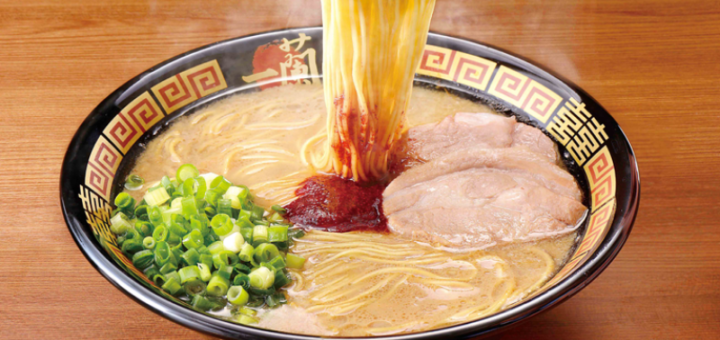 All you ramen lovers out there know that there are various kinds of ramen, such as tonkotsu (pork bone), miso, and soy sauce ramen. But regardless of the kind, the key to delicious ramen is a perfect balance of soup taste and noodle texture. Ichiran Ramen is a legendary ramen store from Hakata, Japan. Many visitors to Japan flock to these restaurants to try their famous tonkotsu  ramen.
Even if you don't live in Japan, you can have the Ichiran experience in your very own home with the Ichiran Ramen Take-Home Kit. As a ramen lover myself, I couldn't help but want to find out if the taste really lives up to the name! Let's dig into our taste test of the Ichiran Take Home Ramen Kit!
---
About Ichiran Ramen Take Home Ramen Kit
The Ichiran ramen brand was first established in Hakata, Fukuoka, Japan – the home of tonkotsu ramen. It is now one of the most famous ramen restaurant chains in Japan.
Consisting of specially crafted soup stock, delectable spices, and perfectly thin flavorful noodles, Ichiran ramen stands out from the rest. There are over 65 Ichiran locations throughout Japan including major cities such as Tokyo, Kyoto, and Osaka. In addition, Ichiran has expanded internationally to Hong Kong, Taipei, and New York.
Unfortunately, due to the current pandemic, many of us may not be able to go to an Ichiran ramen restaurant. Lucky for us however, Ichiran offers their well-known ramen instant-noodle style!
---
Ichiran Ramen Take-Home Kit Packaging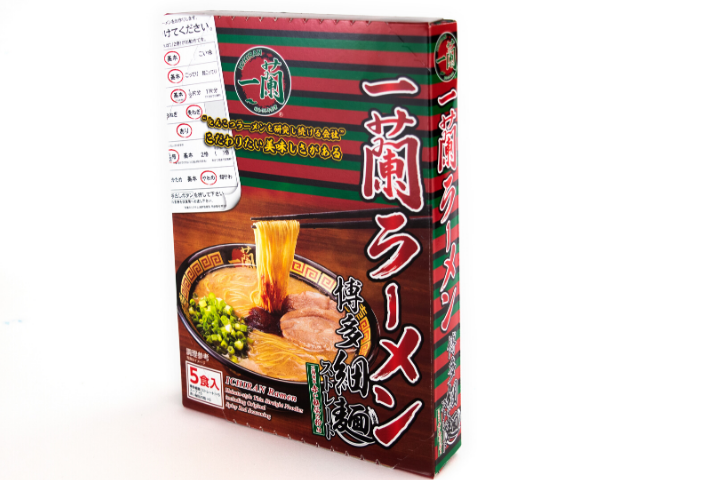 Just by the packaging I could tell that this was not just any run-of-the-mill ramen. The box has quite a premium and fun feel. Looking at it made me so excited to see what was inside! Then again, I shouldn't be surprised. Great presentation is to be expected from Japanese brands, especially such a popular one like Ichiran.
---
What Does the Ichiran Ramen Take-Home Kit Include?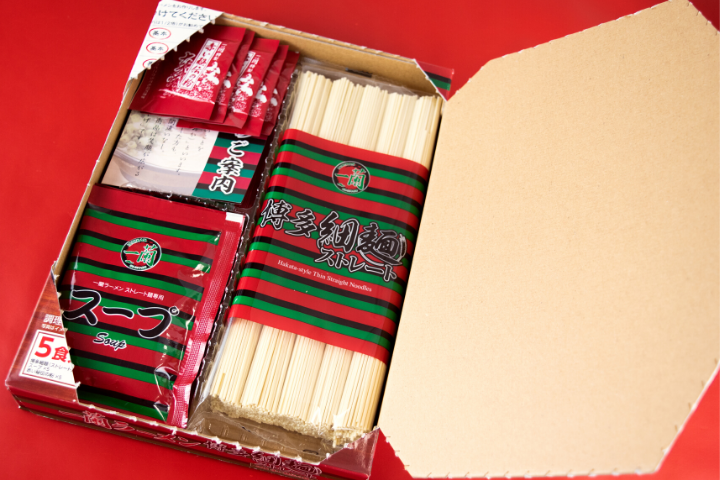 Each box of Ichiran Ramen Take-Home Kit contains 5 servings of Hakata style thin straight noodles, soup stock, and spicy red seasoning powder.
---
The Soup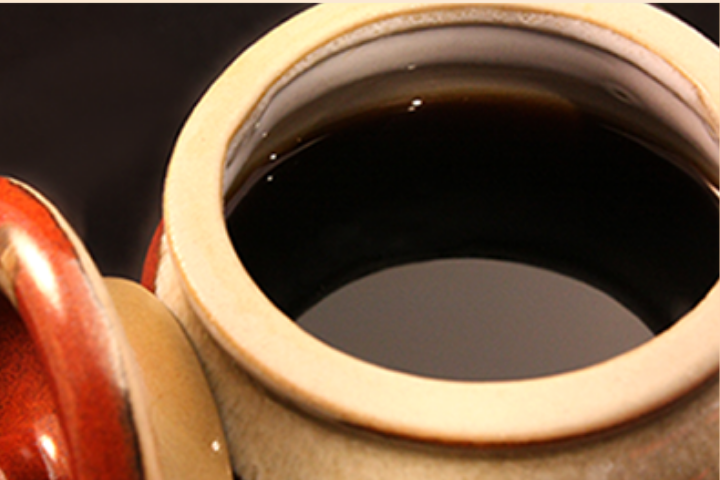 Dashi
One major aspects of Ichiran Ramen is the dashi (soup stock). Japanese dashi usually consists of bonito fish and kelp. Ichiran's special dashi recipe is kept secret and is known to only 4 of Ichiran's chefs!
Tonkotsu Soup
Another major aspect of the Ichiran Ramen Take-Home Kit is the tonkotsu soup you can make at home! Unlike other ramen brands, Ichiran specializes in only one type of ramen: tonkotsu. Rather than diversifying their menu, Ichiran food researchers have devoted their time solely to perfecting the tonkotsu taste.
Their original tonkotsu soup is skimmed to remove any meat residue. This gives a deliciously smooth texture and delicious aroma. Once skimmed, all that's left is a wonderful creamy pork bone flavor unique to Ichiran.
Collagen
Did you know that tonkotsu ramen is a great source of collagen? Rich with collagen, Ichiran tonkotsu ramen is not only a comfort food, it's a beauty item! As we age our skin produces less and less collagen. This causes signs of aging such as dryness, fine lines, and wrinkles. Supplementing your diet with collagen helps to improve skin elasticity and hydration allowing your skin to appear more youthful.
The Noodles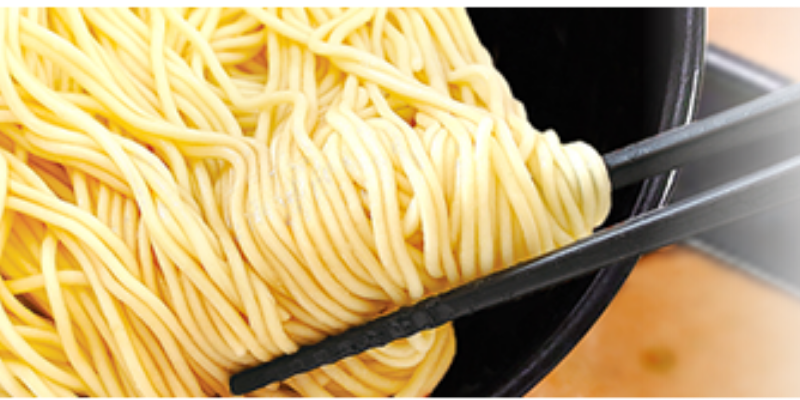 Ichiran's Hakata style tonkotsu ramen is different than any other because of its noodles. Hakata noodles were intentionally crafted super thin in order to speed up the cooking process. These noodles are cooked in a matter of 2-3 minutes! Moreover, they are crafted in pure filtered water to ensure that they are as fresh as can be.
Note: This ramen contains milk, eggs, wheat, pork and soybeans
---
How to Make the Ichiran Ramen Take-Home Kit
1. In a large pot, bring 450 ml of water to a boil.
2. Add noodles, and boil for 2 minutes for al dente, 2 and half minutes for normal, and 3 minutes for soft.
3. Add spicy red seasoning powder(adjust amount according to taste), mix, and allow it to dissolve.
4. Add soup and stir.
5. Add toppings of your choice. Some common toppings are meat, green onions, boiled egg, and bean sprouts.
I decided to use whatever was in my fridge at the time. I added red picked ginger, enoki mushroom, bean sprouts, spinach, corn, avocado, and tomato.
---
Impressions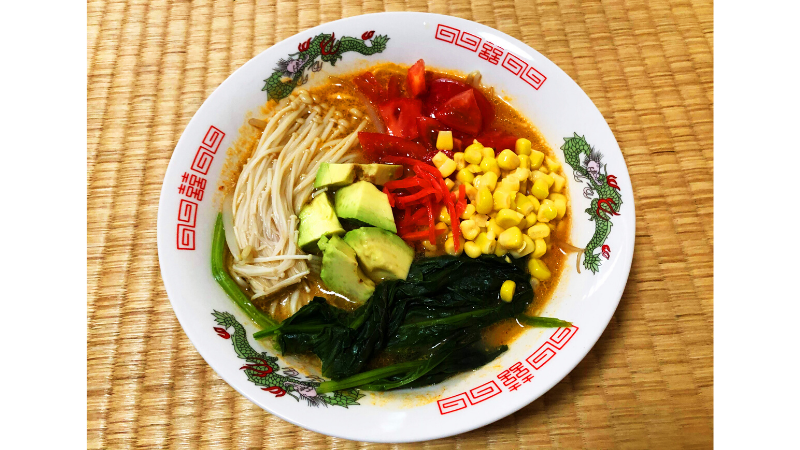 Above is my final result: an amazingly delicious bowl of ramen!
To be honest, the Ichiran Ramen Take-Home Kit exceeded my expectations by far! I was not expecting an instant-style ramen to taste so fresh and rich! The soup was the perfect blend of spice and creamy flavor. The noodles, which I made al dente, stayed firm until the last bite! I would highly recommend this to anyone who enjoys tonkotsu ramen!
As far as the spice level, the spicy red seasoning was surprisingly quite spicy. But I love spicy food, so it was perfect for me! However, if you prefer less spicy food, I recommend adding a little of the red spice seasoning at a time until it suits your taste.
As I mentioned earlier, each box contains 5 servings, which may seem like a bit much to finish — especially for any single people like me. But after tasting it, I now that I definitely won't have a problem finishing the box.
I look forward to experimenting with different toppings to see which combinations I like the most! Next time I think I will try it with common Japanese ingredients, such as thinly sliced green onions.
---
Overall
For this review, I chose to try Ichiran's Hakata style noodles and they were amazing. I'm excited to try the other ramen types that Ichiran has to offer! Next on my list are Ichiran Ramen Curly Noodles and Kamadare Tonkotsu Noodles!
Ramen is one of the best comfort foods out there, especially on rainy days or a night in. So if you're stuck at home due to COVID-19 like the majority of us, it may be the perfect time to stock up (but not hoard) on some great tasting ramen!
And if you're in a gift-giving spirit, spread the love! Ichiran ramen would also be a tasty gift for friends and family!
Grab Ichiran Ramen Noodles here!
If you're an Ichiran fan, our writer Seungmi paid a visit to the real Ichiran Ramen here in Kyoto! Read this and you'll know exactly what to expect at this legendary store: