Ichiran Ramen Restaurant in Kyoto!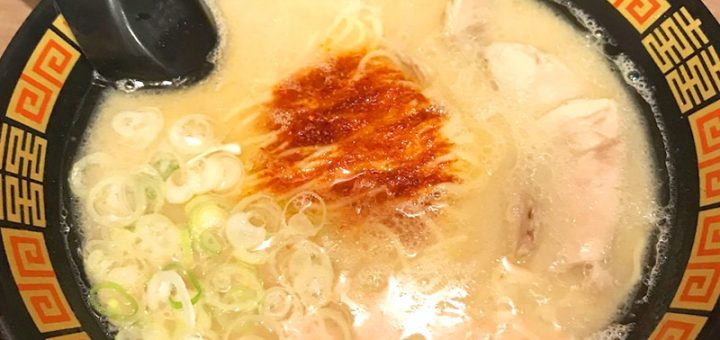 Out of all of Japanese cuisine, one of the most popular dishes worldwide is definitely ramen. In Kyoto too, you can see long lines outside certain ramen restaurants day after day. Of course, all those places must have good ramen. But recently I saw that a famous ramen shop has brought out an instant ramen with their characteristic taste, Ichiran Ramen.
Ichiran Ramen is a ramen brand that's famous both in Japan and abroad. Actually, the second Ichiran Ramen restaurant in Kyoto has recently opened near to my house. This style of ramen is from Fukuoka, but luckily I don't have to go all the way to Fukuoka to taste it! So I decided to go and try it together with my husband.
First of all, I looked up some information about Ichiran.
What's special about Ichiran ramen?
1. Red sauce with a secret recipe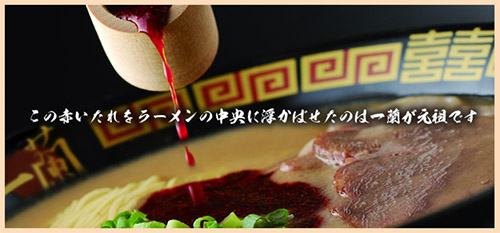 2. Thick pork-bone (tonkotsu) soup without a strong smell
3. In the restaurant there are private booths where you can concentrate fully on your food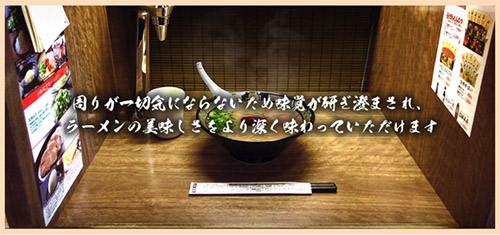 4. An order sheet where you can choose exactly how you want your ramen (softness of the noodles, with or without garlic or spring onions etc.). English forms are available too.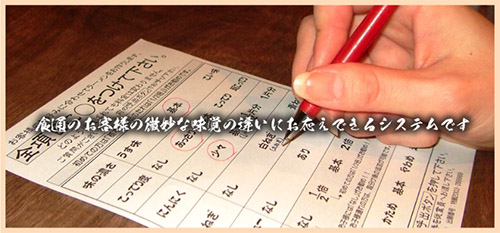 5. An order system where you can add extra noodles to your soup
(images via ichiran.com)
---
So, let's go to the actual Ichiran Ramen restaurant!
We went in the evening, and this is what the restaurant looked like. There's a school and a university nearby, and inside there were some high school students. The person in this photo is my husband!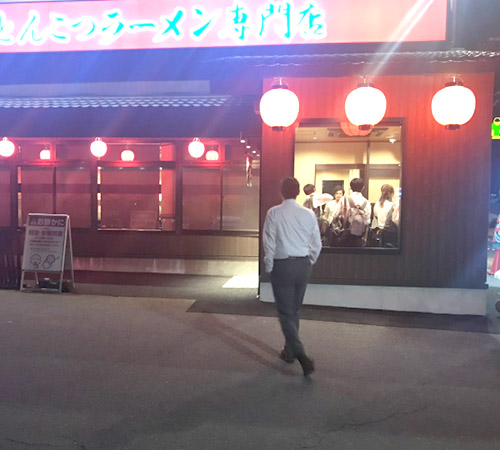 As soon as you go in, there's a ticket machine. You can buy toppings such as a boiled egg for your ramen, and a few other things like rice or almond tofu dessert. We bought tickets for two bowls of ramen.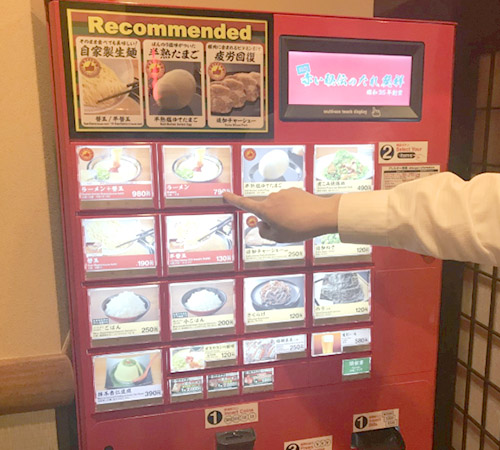 The ticket machine spits out your tickets and change at the bottom. The dish names are written in English, Chinese and Korean, so it's easy to use even if you can't read Japanese.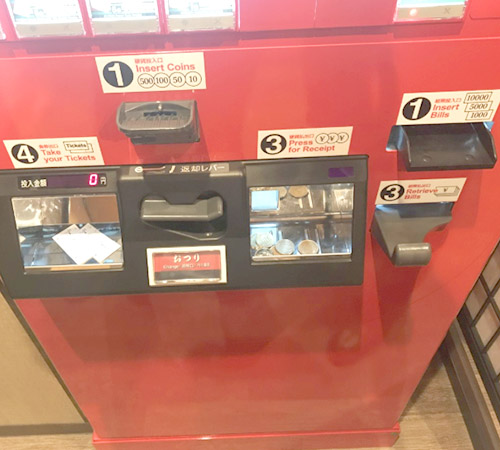 I didn't take a picture, but we were helped out by a member of staff, so it was all very easy. You can see how many seats are available on this display. The staff showed us to seats 23 and 24.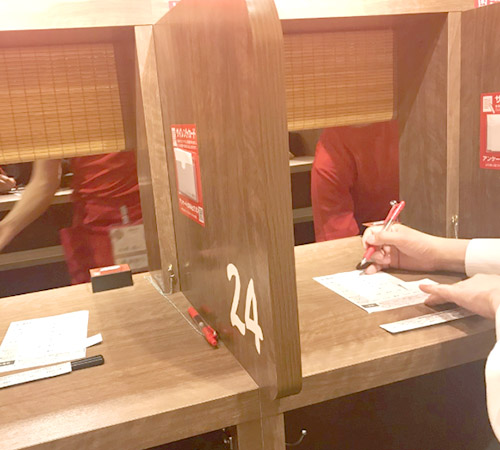 There were other people around so I didn't take a picture of the passage area. The famous counter seats are like this. You can't see the staff working behind the counter which is a bit odd, but they were very kind.
Peronalising your order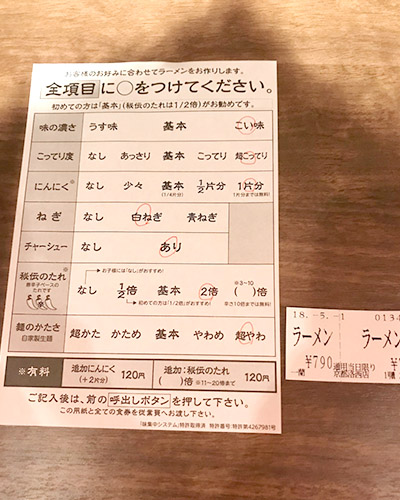 In Ichiran, you personalise your ramen by writing on this order sheet. From the top there's strength of flavour; richness of soup; amount of garlic; choice of spring onion type (you can choose none); whether you want pork slices; whether you want the secret recipe red sauce; softness of noodles. The options at the bottom come with an extra charge, but if you like you can add extra garlic and red sauce. The options in the middle are the standard ones, then the options on the left are for fewer extras and flavourings, while the options on the right are for a thicker, stronger taste.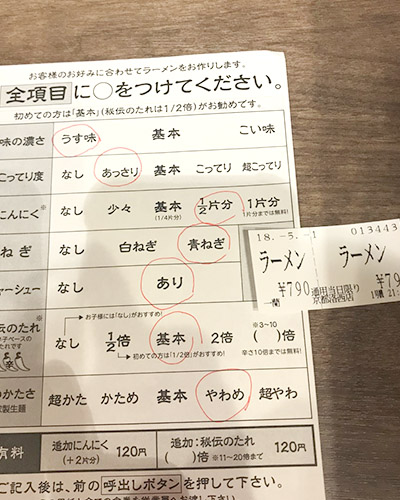 Once you've selected your preferences, you press the square button that's on the left of the photo. The staff will come to collect your order sheet and they drop the blind in front of the counter.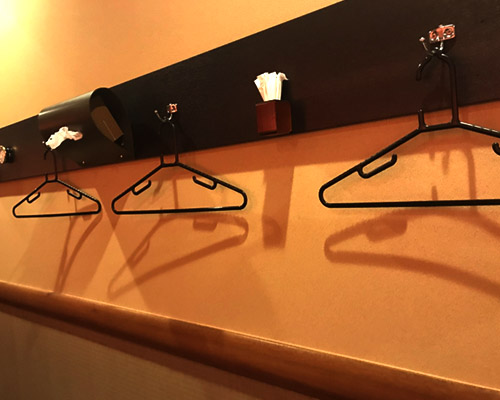 This is my husband's order. He chose a thick, strongly-flavoured soup with extra garlic, white spring onion, sliced pork, a double portion of red sauce and extra-soft noodles.
My order was with a less thick soup with a lighter taste, a half-portion of garlic, green spring onion, red sauce, sliced pork, and soft noodles. On the counter there are tissues and toothpicks. You can put your bags under the counter.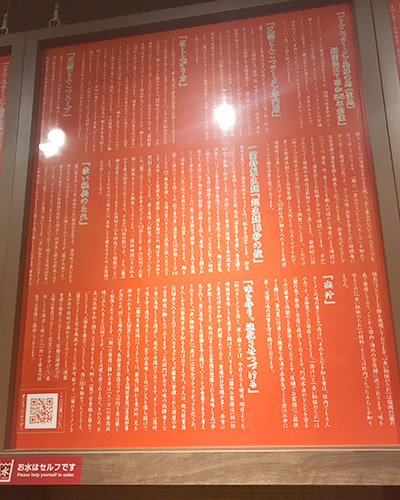 Sitting at the counter seats, you can read an explanation about the Ichiran restaurants, the way to eat their ramen and so on.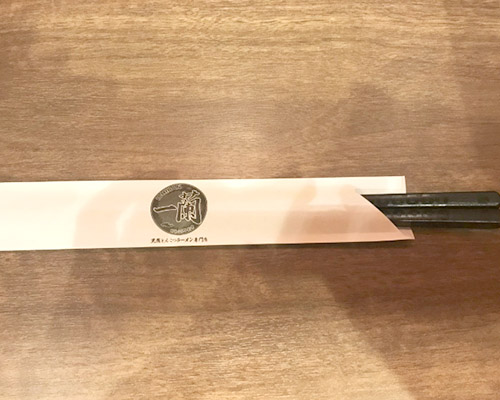 There are also order sheets on the counter for you to make extra orders. You can get second helpings of noodles, spring onions, boiled eggs, pork etc. as well as rice, drinks or dessert on the side.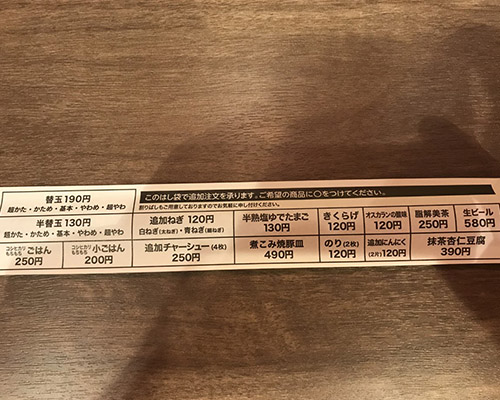 You can simply give the paper to the staff without having to say anything, so it's handy when you're not feeling talkative.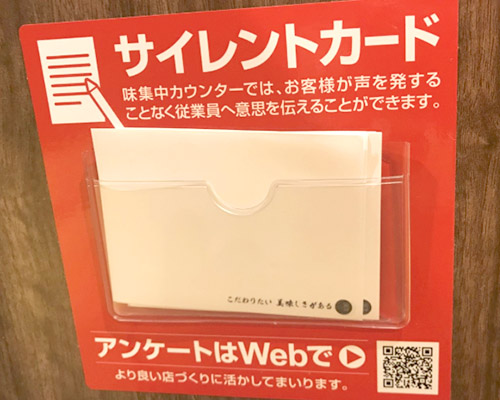 Here comes the orders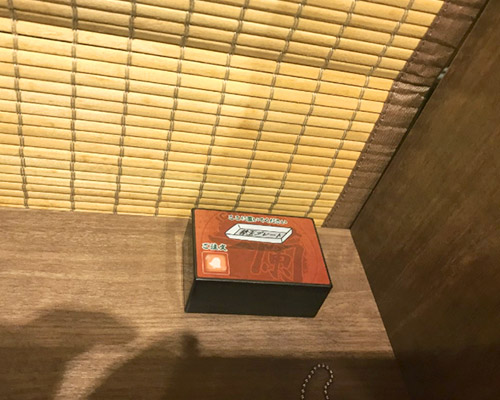 After we'd handed our order sheets to the staff, the ramen arrived.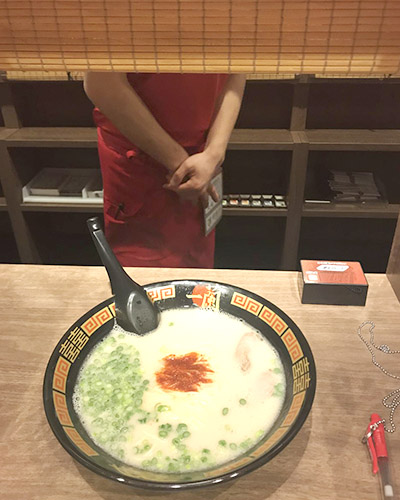 This is my ramen. Since I'd chosen lighter options, you can't see any oil on the surface.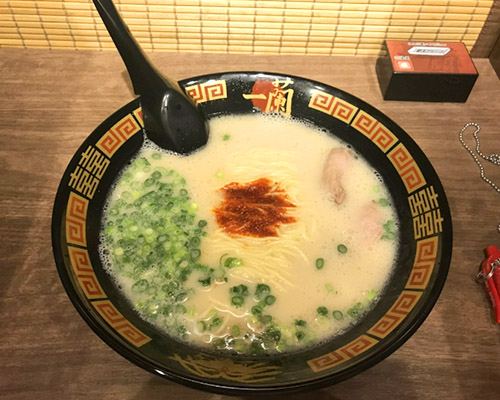 This is my husband's. The colour, size and amount of oil are completely different.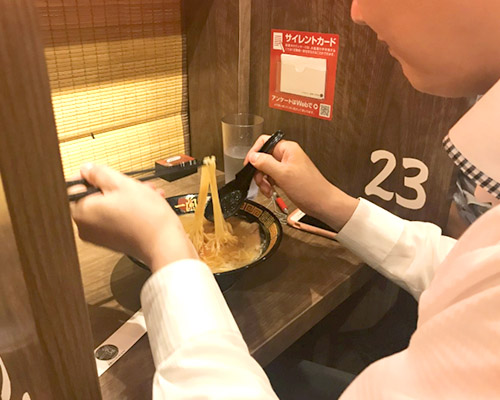 Let's tuck in!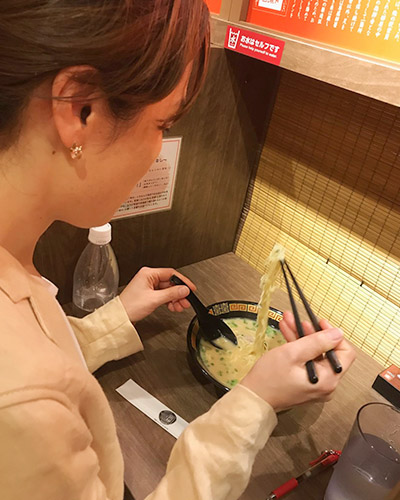 This is the thick ramen, it has a lot of oil…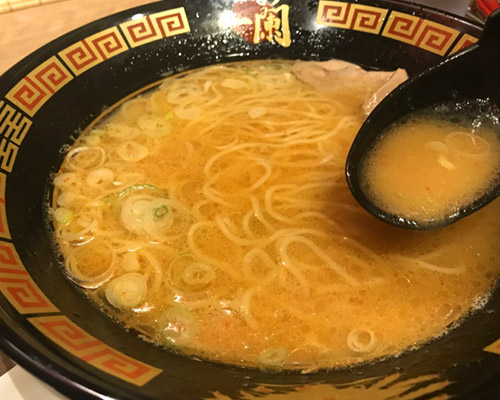 I ordered my noodles soft, but you can still see some of the original white colour.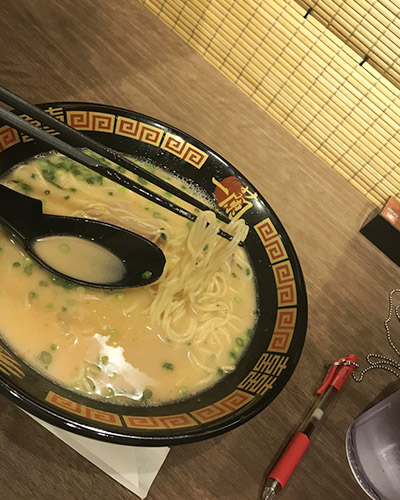 My husband ordered extra-soft noodles, so the noodles were a bit sticky.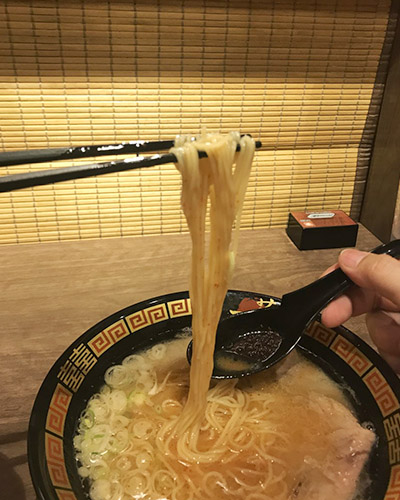 All finished! Although I'm female I can generally eat a lot. The portion was fairly large but I felt like it was a bit small, HOWEVER… read until the end of the article…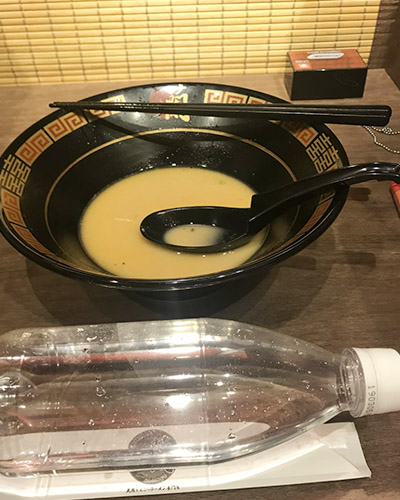 My husband also finished everything! He drank up all the soup as well. And then he wrote something down. "One drop can bring a lot of happiness!"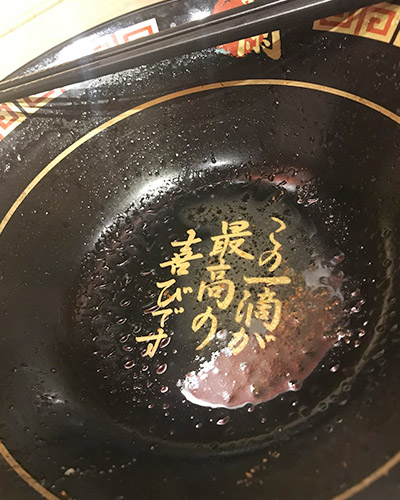 Since you pay in advance, once you've finished eating you can simply get up and head out.
---
Our opinions on Ichiran Ramen…
This is what my husband thought about it.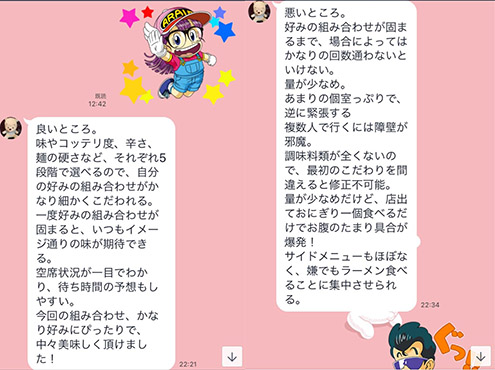 Good points:
You can choose the flavour and thickness of the soup, spiciness, softness of the noodles etc., so it's easy to adapt the ramen to your personal tastes down to the details. Once you've found the taste that you prefer, the ramen will always come out the same so you won't be disappointed.

You can easily see whether seats are free or not and estimate the waiting time accordingly. With the options I chose this time, it suited my taste very well so I thought it was very tasty!
Bad points:
It might take you a few tries to work out which options are to your taste. Then you might end up having to go there several times. The portion was also a bit small.

The counter spots are a bit too private, so it could actually make you feel a bit awkward. If you go in a big group, the walls between seats are kind of in the way.*

They don't have any spices or sauces on the tables, so if you misjudge your order you can't adjust the flavour easily. Although the portion is small, if you eat just one nigiri afterwards, there's too much liquid in your stomach so it might feel like you're way too full afterwards! There's not much in the way of a side menu so whether you like it or not you're really forced to concentrate on the ramen.
* Actually you can remove the walls between seats if necessary!
---
Fukuoka versus Kyoto Ichiran Ramen
2 or 3 years ago, we actually went to an Ichiran restaurant in Fukuoka, because my husband loves ramen.
I couldn't eat much of the ramen in that Ichiran because I didn't like the Fukuoka-style ramen which has a rather strong flavour and very thick soup. In the end my husband ate both our portions! Bearing that in mind, this time I chose lighter flavour options, but in the end I felt that my husband's choices tasted better… That's kind of weird, right?
Talking to one of our friends who's from near Fukuoka, it seems like as we suspected the Kyoto and Fukuoka versions have a slightly different basic taste, that the former has a lighter taste. Finding out that even the same restaurant chain has different versions of the same ramen makes me feel like traveling again!
Before, I said read to the end of the article, right? I and my husband generally eat big portions, so after finishing the ramen we went to grab some nigiri, because we weren't quite full. But both of us couldn't even eat half a nigiri before suddenly feeling really full. So take note that even if the portion looks small, you might end up feeling really full after 10 minutes or so…
Overall I felt satisfied with the experience
Should you ever come to Kyoto's Ichiran ramen restaurant, even people who don't like strong flavours can try the ramen without any worries. I plan to try out the Ichiran instant ramen next. For people who can't go to eat at the restaurant, it seems really convenient. So tune in next time for my review!
If you do decide to go to Kyoto's Ichiran Ramen Restaurant, then you'd want to know where the nearby drugstores are too! Find them here~ Or perhaps you want to bring your muslim friends to eat halal ramen in Kyoto (video link)! (Psst, they are really delicious!)
---