Shiseido's Fino Premium Touch Hair Mask: Review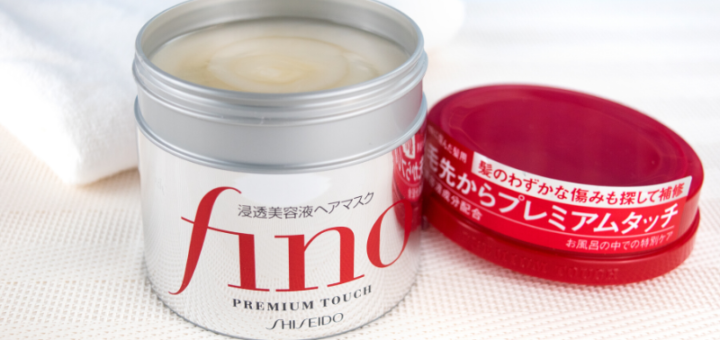 Our hair is our crown. It's one of the first things people noticed about us and more importantly. one of the first things we notice about ourselves. So to keep our crown looking its best, it's important to deep condition and/or mask our hair at least once a week.
Since I've been neglecting my hair lately, this week I've decided to try one of the most popular Japanese hair masks, Shiseido's Fino Premium Touch Hair Mask. I've read promising reviews on @cosme and couldn't wait to see its effects on my hair.
 Fino Premium Touch Hair Mask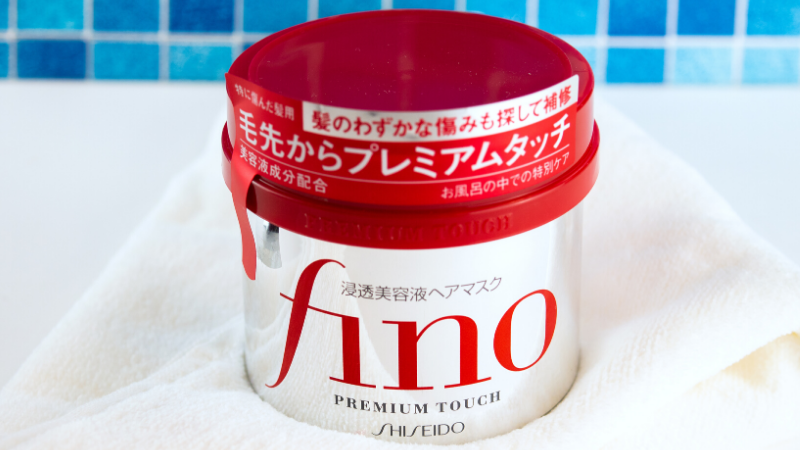 The makers of Fino, Shiseido, emphasize that the way to make our hair more beautiful is to treat it from its essence. We should love our hair and give it proper care rather than concealing the care with damage care products that provide fake shine – an illusion that our hair is healthy.
With this wish in mind, using skin care technology, Shiseido created Fino, a hair care item that contains purely beauty serum. Beauty serum for the skin can nourish, moisturize, repair, and even out skin texture and complexion. Fino does the same for the hair. Fino hair mask when applied to the hair searches for even the smallest imperfections and/or damage and repairs it and leaves hair silky smooth.

What's in it?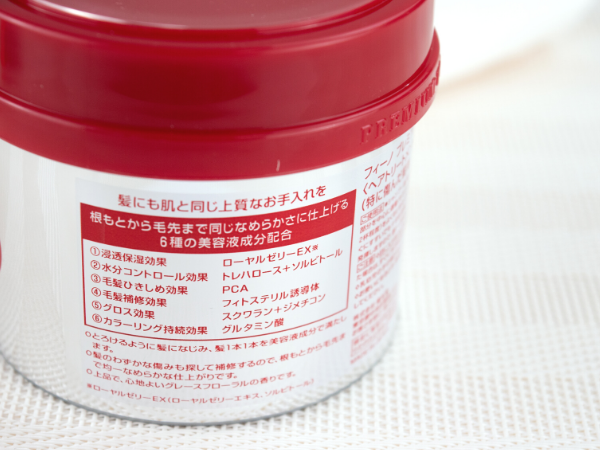 Fino Premium Touch Hair Mask is a combination  of 6 key active ingredients (listed below) that offer great hair-enhancing effects. For instance, Royal Jelly Ex deeply moisturizes the hair and PCA strengthens and phytosterol repairs. These ingredients are major ingredients used in serums to provide healthy skin. Therefore, if you're using a skin care products, chances are, some of these ingredients are in your skincare items!
Royal Jelly EX (Moisturize Penetration)
Trehalose + Sorbitol (Moisture Level Control)
PCA (Strengthening)
Squalane &

Dimethicone

(Shine)
Glutamine (Long Lasting Color)
Phytosterol (Repair)
About My Hair
I have curly hair. The strands are very fine but I have a lot of them, so my hair quite thick. Without regular and proper care, it can be prone to dryness and breakage.
If I don't deep condition with the right products every week my hair can get quite dry, frizzy, and brittle. Plus, my strands tend to tangle into knots that are almost impossible to untangle. Or even worse, I get single strand knots which can only be remedied by cutting. So I was a bit worried that the Fino hair mask wouldn't suit my hair type.
However, I still remained hopeful mainly because the ingredients in Fino are all ingredients that I've seen before in my skin care products. Plus, since Shiseido is so well-known for their high quality skincare products I muscled up the courage to give Fino a try!
How to Use Fino Hair Mask
1. Shampoo hair, rinse scalp and hair thoroughly, and gentle squeeze excess water from hair. Be careful not to squeeze too tightly.
2. Take an appropriate amount and spread in the palm of the hands.
3. Apply from then ends of the hair to middle and then near the roots.
4. Using fingers, rake product through the entire of the hair.
5. Rinse thoroughly and towel dry.
*Apply to hair and leave for 3-5 minutes in a steamed towel or shower cap for intense damage care.
After shampooing my hair in the shower, I applied Fino hair mask to each section of my hair. My hair is very dense so whenever I apply conditioner or treatments I always have to section my hair into at least 4 sections.This way I can ensure that the product is thoroughly distributed throughout my hair. If your hair is not so dense, just raking the product through should suffice.
I usually shampoo and deep condition my hair first and then proceed with my shower routine before rinsing out the mask/deep conditioner. But I felt like my hair needed some extra loving so I decided to leave Fino in my hair for 10-15 minutes under a shower cap while sitting in a hot bath.
Taking a hot bath and deep conditioning is such a great combination! I can sit back and relax and give my hair a make-over at the same time!
Impression
After rinsing out the mask I had my wide tooth comb ready to detangle my hair. But I barely needed it! I was able to finger-detangle my hair quite easily! Again, I have thick curly hair, so this was a big surprise for me.
As I mentioned earlier, my hair tends to tangle a lot and get frizzy. Fino hair mask took care of my tangles and there was no frizz at all! I was a bit taken aback by the lack of frizz, so I dried my hair and checked again. I was happy to see that my hair was still frizz-free!
So, my overall impression of Fino hair mask is that it definitely does what it promises.
Fino Premium Touch Hair Mask would be a perfect item for anyone who desires volume-control and would like to treat dry, damaged, dull and/or frizzy hair.
I'm excited to continue using Fino regularly. I am quite optimistic that it will continue to work well with my hair and keep my crown healthy and beautiful!
Check out Shiseido Fino Premium Touch Hair Mask & Honey here!