Fancl Deep Charge Collagen Drink Review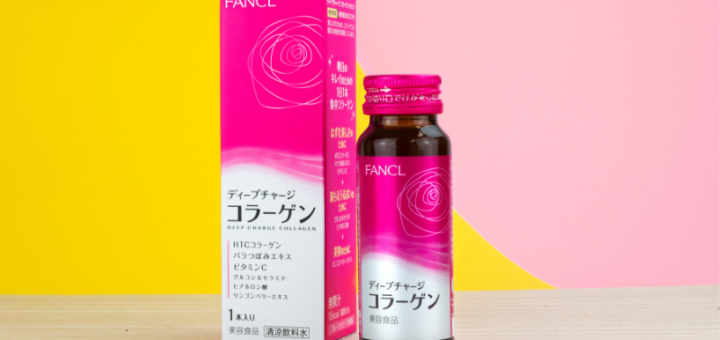 Today I'd like to share my impressions of the new collagen drink I've tried, Fancl Deep Charge Collagen Drink. Collagen is a super popular ingredient in many beauty products. As you may already know, collagen is naturally produced in the body, but as we age, the amount of collagen in our body decreases. Collagen contributes particularly to skin elasticity and firmness helping to maintain beautiful skin. Precisely because of its popularity, there are now so many ways to take collagen. For example, there are collagen tablets, powders, and drinks. So, why choose a collagen drink? Well, if you'd like to drink something a little sweet before bed that can also support your beauty as well as your sleep quality, then a collagen drink might be right for you!
---
Why I Chose Fancl Deep Charge Collagen Drink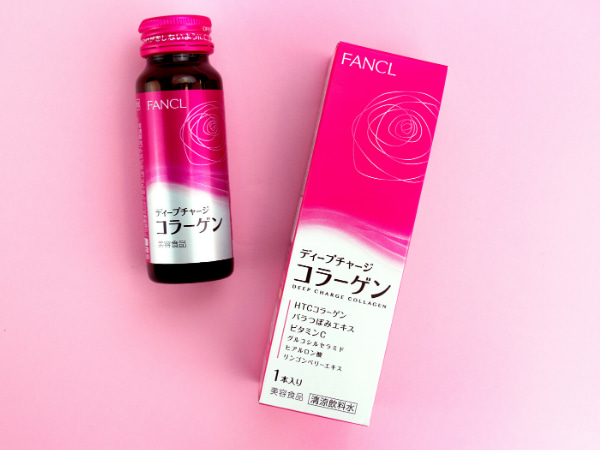 As a busy women approaching my 30s, I care more and more about my aging skin. Supplements like this seem like a good option as an addition to a healthy lifestyle and skin care regimen.
Fancl Deep Charge Collagen is one of the most popular collagen drinks currently on the market. It has great reviews from customers who state that it is easy to drink and has positive effects on their skin. For example, it is supposed to help keep your body and face looking youthful and soft. I'm hoping that it works for me!
---
What is Fancl Deep Charge Collagen? What's in it?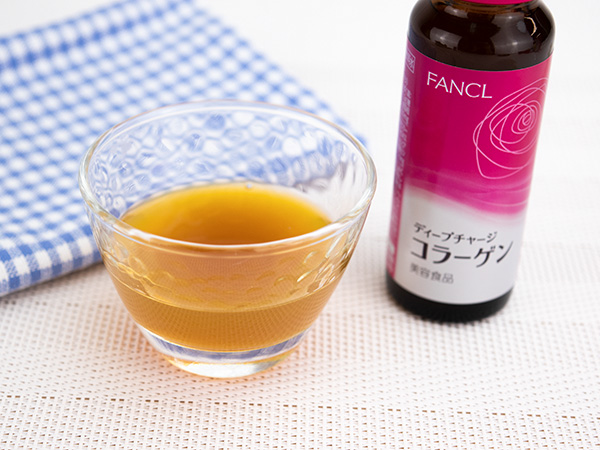 The main ingredients are…
HTC Collagen
Rosebud extract
Vitamin C
Hyaluronic acid
Glucosylceramide
"HTC" collagen is a type of collagen formulated by Fancl they say is better absorbed than other collagens. This is because normal molecular-weight collagen has approximately 100 linked amino acids, in contrast to HTC collagen, which only has three. In other words, the body is able to absorb these short chains more easily.
As far as natural extracts, Fancl Deep Charge Collagen contains Lingonberry extract and rose extract. Rose reduces redness and soothes irritation. Lingonberry is high in antioxidants and supports gut health. And a healthy gut leads to beautiful skin! Rose is said to reduce redness and soothe irritation.
In addition, hyaluronic acid and glucosylceramide contribute the skin's moisture. Glucoslyceramide, which is derived from peach, is said to improve skin texture and preserve moisture. As many of you may know, hyaluronic acid occurs naturally within our body binding to water to preserve moisture. However, as we age, due to aging processes, UV radiation, and other pollutants, the amount of hyaluronic acid reduces, causing wrinkles and fine lines. So, taking a supplement like Fancl Deep Charge Collagen containing hyaluronic acid can have amazing anti-aging effects on the skin.
---
How to Take Fancl Deep Charge Collagen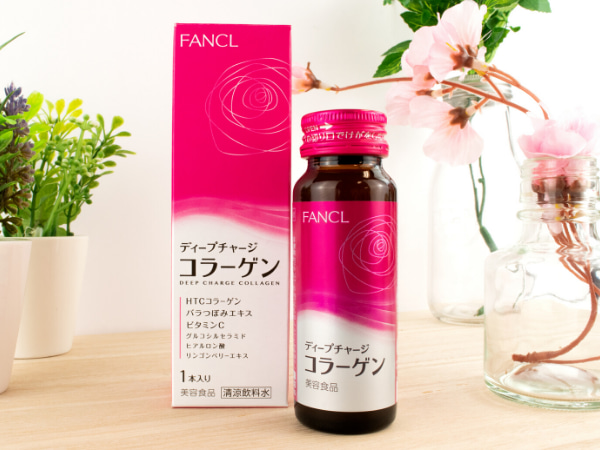 Drink it chilled and shake well before drinking. It can be taken at any time of the day but it Fancl recommends drinking it before bed. The reason for this is that collagen helps you sleep better and improves your mood! As you might have guessed, it contains no caffeine!
Note: This drink contains gelatin, so it may not be suitable for vegans or vegetarians.
---
My Impressions
My first impression of Fancl Deep Charge Collagen was the packaging. It comes in a pretty pink and white box with an illustration of a rose on it. Just looking at it makes me feel beautiful! As far as the taste, this was my first time drinking a collagen drink so I was a bit apprehensive. I hoped that it would be easy to drink, and I wasn't disappointed! It has a tangy, sweet, and refreshing flavor.
Overall, I'm quite satisfied with this drink! Since it tastes fine it will be easy to drink on a regular basis. As it has been only a day or so, I'm not sure about its effect on my skin yet. However, based on its popularity, I have high hopes! So if you're looking for a sweet addition to your beauty regimen, check out Fancl Deep Charge Collagen Drink!
Get Fancl Deep Charge Collagen Drink here!
The Fancl Deep Charge range also comes in a few different forms, including tablets and a jelly. If you're curious about the rest of the Deep Charge line, check out our roundup here!