Dove Botanical Selection Natural Radiance Review
Recently, I was at the shopping mall and saw Dove's new foam face cleanser range lined up on the shelf. The packaging looked clean and slick, so I wanted to try them out. In fact, I've already used up one bottle and I'm on the second. First I bought the "Pore beauty" face cleanser with green packaging and it was pretty good, so I bought another.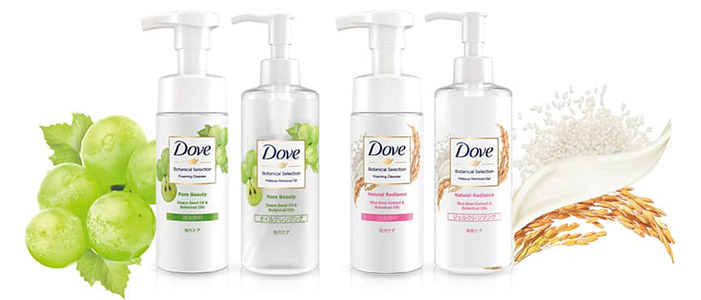 (images via dove.com)
This time I bought the bottle with pink writing called "Natural radiance", which is supposed to make your skin clearer and remove dead skin.
I would like to review both of the products, but for the moment I'll just talk about the Natural Radiance cleanser.
---
First, according to the product maker…
Botanical foam face cleanser
Creamy, fine foam gently removes dead skin cells and blemishes
4 naturally-sourced botanical oils (argan, jojoba, avocado, and apricot oil)
Contains rice bran which helps retain moisture
The sweet and classy scent of soft peonies
Free of parabens and colorants
How to use: wet your face, pump two or three squirts of foam into your hands, and spread over your face. Then rinse off with plenty of water.
---
So, let's try it out!
First of all, this is what the bottle looks like. I took the photo just after I used it, so…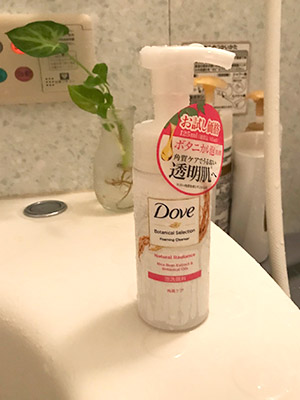 When you press the top, foam comes out like this. First squirt!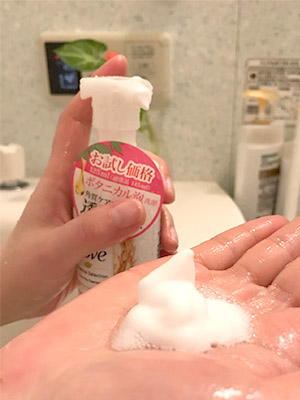 Second squirt!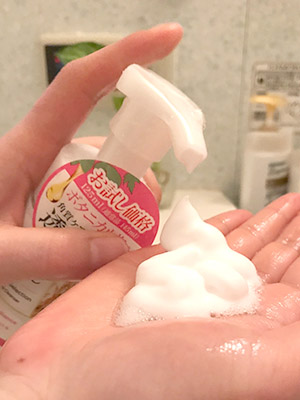 Third squirt!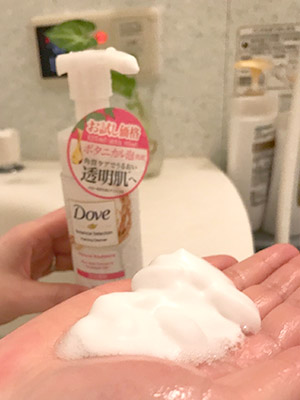 In the instructions, it says to use 2 or 3 squirts, but I think 2 is enough. (I was a bit slow at taking the pictures so some of the foam disappeared. I have to improve my photography skills!) The foam is soft and it smells good too. My skin feels very smooth afterwards.
After rinsing my face, it felt a bit like I'd put lotion on, because it didn't feel dry but rather like there was a veil over my skin. I can't tell just by looking if it really removed dead skin cells or not… so I can't say!
This is true for all foam cleansers, but I feel that compared to non-foam cleansers, even if you use the same amount, it seems to get used up really fast. Perhaps for cream cleansers I tend to use less than the recommended amount.
---
One more thing
I have a daughter who's at university. We tend to share beauty products, including this one, so I asked for her opinion.
Pro: The fragrance is great!
Con: The foam takes a long time to rinse off.
I see! She's kind of lazy so that's all she would say ( ノД`)sobsob…
---
And finally!
Recently a lot of foam-based products have been coming out, and not only face cleansers. Foam make-up removers have also become more common.
I guess that the most important thing is to be gentle to your skin, so a lot of people prefer a soft foam. I used to have a net to foam up cleansers, but it's kind of annoying to do that so sometimes I just mixed a bit of water with the cleanser in my palms.
But you can really notice the amount of effort you make when it comes to your skin, right? If you become lazy you start to notice the effects right away. So let's all try to be kinder to our skin!
Talking about being kinder to our skin, we have talk more about other makeup removers, especially cleansing water and gels/creams. Be sure to check them out!
---