FLOWFUSHI Mote Mascara Review! Greatest Mascara Ever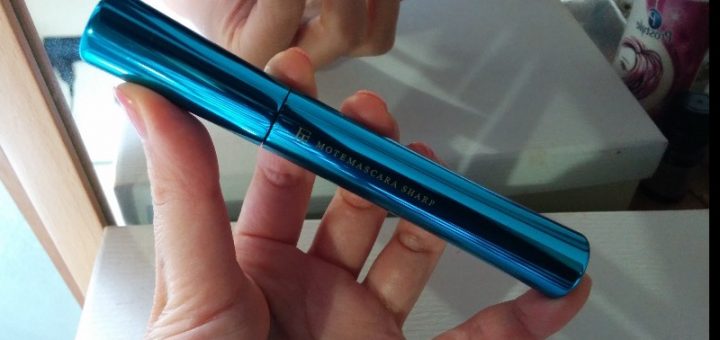 FLOWFUSHI is cosmetic brand which is becoming more popular with its colorful package and unique products names. FLOWFUSHI directly means eternal youth in Japanese. The word 'mote' in the product name Mote Mascara means to get popular.
However it's not only those uniqueness but also quality that makes them popular among young women in Japan.
Mote Mascara is the best seller item among FLOWFUSHI products. There are 9 types of mascara depending on blush type, shape and effect.You can choose from blush or comb type, how bold or separated you'd like to your eyelash to be done.
For more information on how to choose Mote Mascara, please look into this blog page.
The one I tried is Comb Type, IMPACT 2 / SHARP in the light blue bottle.
I was a brush mascara-user for a long time, but after I started to use this Mote Mascara, I found comb type easier to use.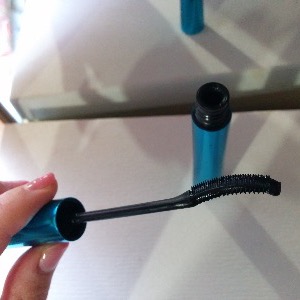 No wonder that it is easy to use, all Mote Mascara attach its original blush.
Most of comb type mascaras are straight but this has round shaped which nicely fit eyelash.
Another great point is both side can be used to apply mascara. You can see it has different shaped comb on both sides.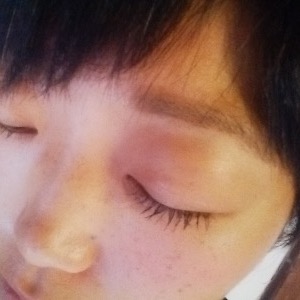 It makes it easy to use even for who use a comb type for the first time.
Mote Mascara Repair Comb Type makes your eyelash beautifully separated and long. If you prefer bold gorgeous eyelash, you can try Blush type IMPACT 1 / DRAMATIC.
---
Long-lasting and washes off with warm water
I noticed it became like a film coating on eyelash when I used it. They say Mote Mascara uses 'WP film', which enables to make eyelash well coated to keep curl and boldness longer.
At the same time, it can be washed off with warm water without remover. I had used several other mascaras which could be washed off with warm water. I can tell this is very easy to take off. Of course it doesn't come off all day unless you rub your eyelash.
I wiped out eyelash after I applied Mote Mascara with cotton soaked in warm water just to show how it looks like and easy to take off.
You can see it looks like thin black film coating in the picture.
Please note that wash off gently with warm water, not wipe out like I did when you take off it since this is not proper way!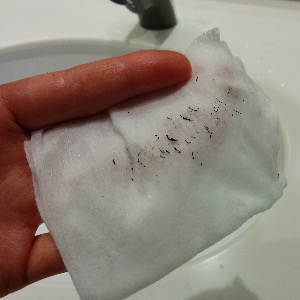 One more good thing to your eyelash is that it also contains 'Endmineral', beauty ingredients to prevent eyelash from damaged.
Mote Mascara is in the high-price mascara lineup compared to other many mascaras which are available in less than 1,500 yen in Japan. I used to use other brand which is at around just 1,000 yen. I know the change to Mote Mascara would cost me more on eye makeup, but I would definitely purchase another one when I use up the current one.
With Mote Mascara from FLOWFUSHI, you may get popular and look nicer like you have eternal youth!
---