Pantene Miracles Dual Effect Milk Jelly: No More Frizz!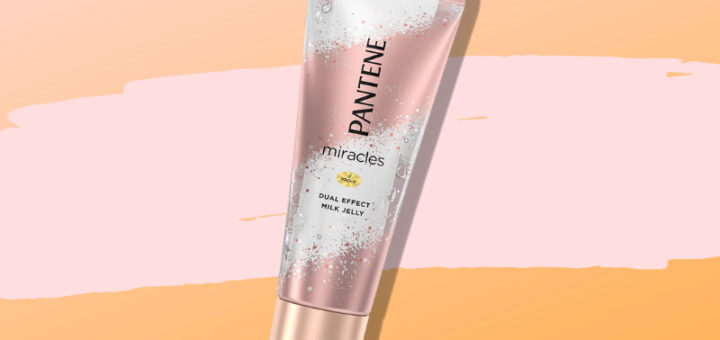 Want to wake up to flawless frizz-free hair? Pantene Miracles Dual Effect Milk Jelly, part of Pantene Japan's new Miracles product range, is a conditioning treatment specially formulated to prevent frizz and unwanted waves even while you sleep! This magic is thanks to Pantene's new and impressive milk and jelly dual formula. The formula contains luxurious milk that nourishes and repairs and velvety jelly that fills gaps in the hair shaft and protects the hair.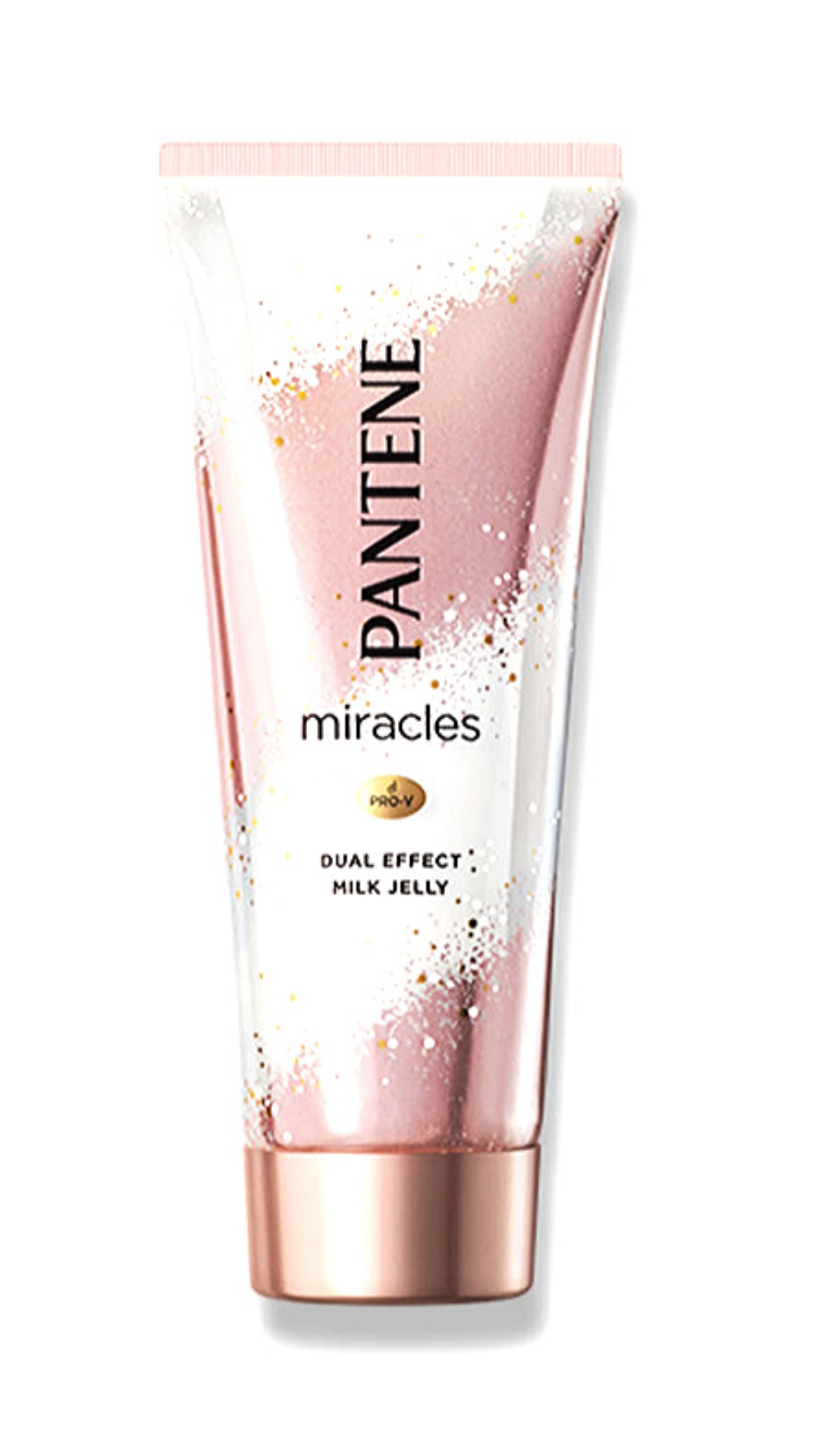 What's more, Pantene's new innovative beauty technology makes Dual Effect Milk Jelly different than most deep conditioning treatments. While most treatments are made to be used once a week, Dual Effect Milk Jelly can be used every day! Pantene experts recommend using it before bed after shampooing and conditioning and before drying the hair.
---
How to Use Pantene Miracles Dual Effect Milk Jelly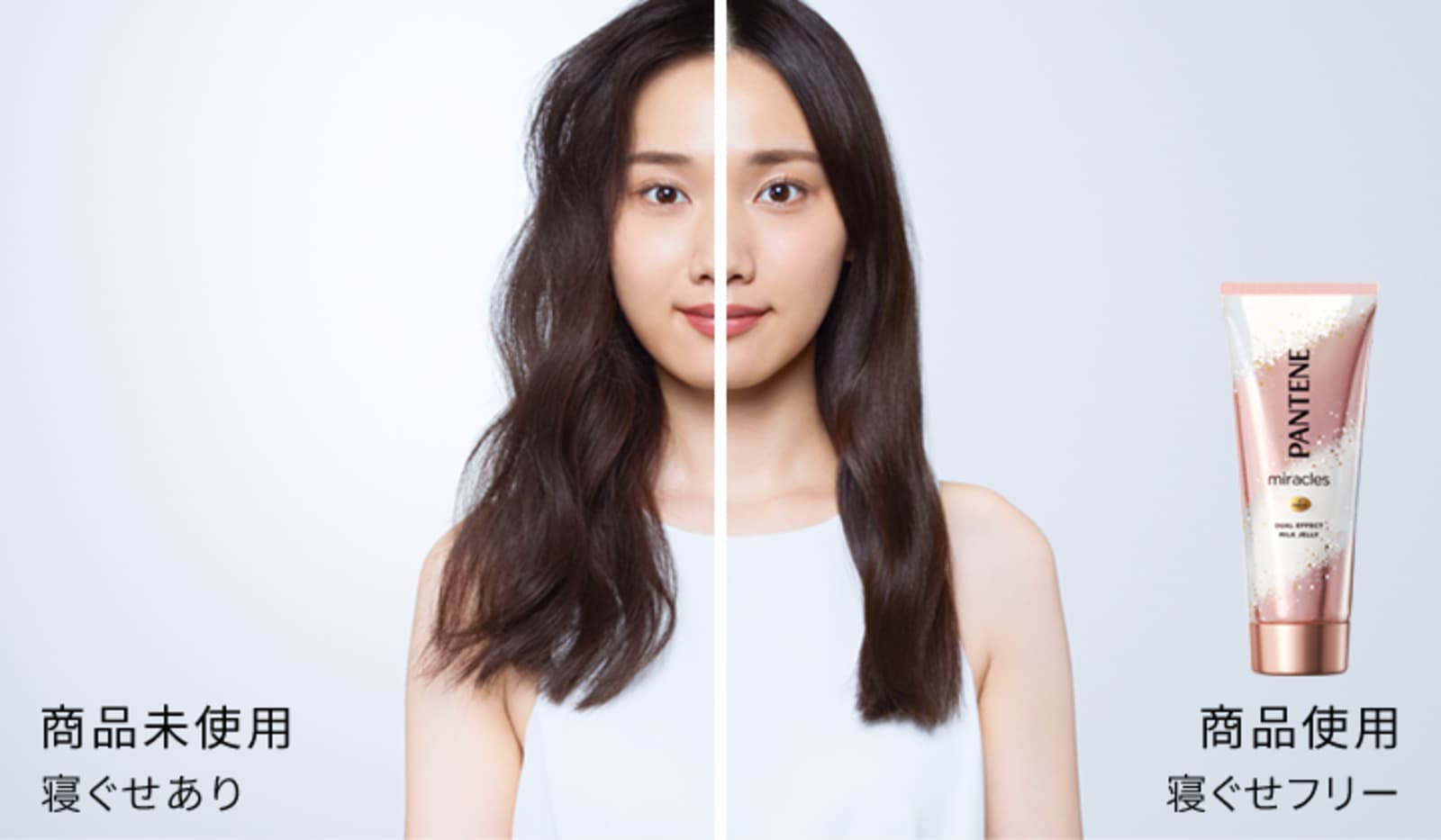 First, shampoo and condition hair. Gently squeeze excess water from hair, and take an appropriate amount of product in the palm of the hands.
Note* If you have trouble squeezing out the jelly, hold tube vertically and lightly tap tube with the palm of the hands. By doing this, the jelly will come amount more easily along with the milk.
Next, mix the milk and the jelly in the palm for the hands with finger tips until it all turns into a white-ish color.
After that, apply to the hair and rinse immediately.
Finally, blow dry hair and style.
As far as convenience goes, Dual Effect Milk Jelly is amazing. It can be used everyday in the shower/bath! Plus, you don't have to leave it in your hair for long. Just apply and rinse! Plus, it has an amazing freshly picked apple and rose blend scent that'll make you want to snuggle.
---
Pantene Miracles Special Dual Effect Formula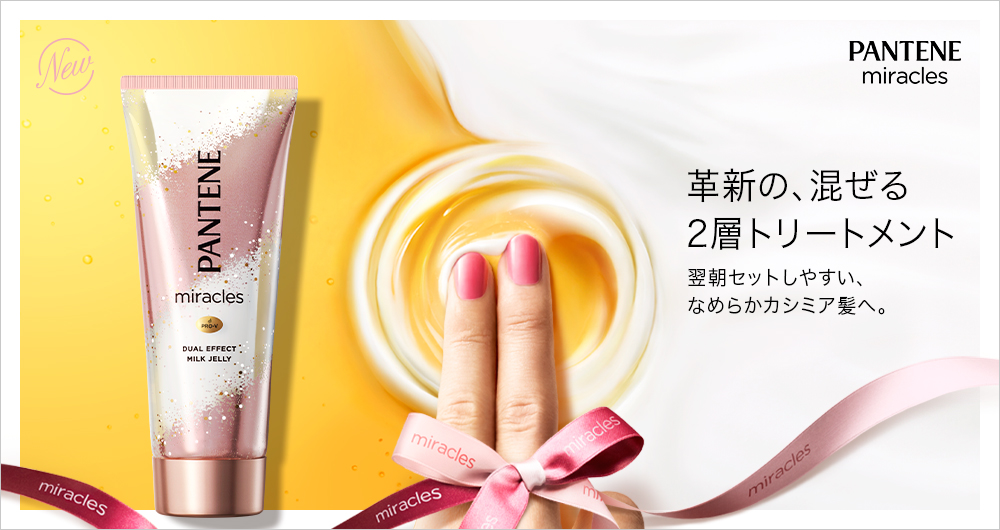 Dual Effect Milk Jelly's special formula gets rid of frizz and keeps frizz away even while you're sleeping!
While frizz can be caused by various factors, the main factors are dryness and damage. Dryness and damage occur throughout the day due to environmental factors as well as mechanical damage from styling. In addition, even when your hair rubs against your pillow at night, this friction can increase dryness and cause damage to the hair cuticle! Dual Effect Milk Jelly mends the hair and protects it right before bed, to avoid frizz once and for all!
---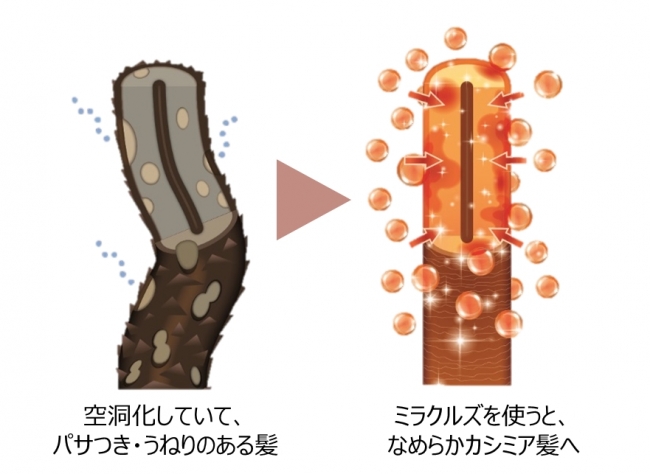 Pantene Miracles Milk Repair
The rich milk formula contains Pantene formulated Liposhot. Liposhot is a special beauty serum that that penetrates deep into the hair shaft mending and filling in damaged areas of the hair cuticle that contribute to serious frizz. Pantene researchers and developers were dedicated to finding an effective serum that targets frizz. They spent 15 years developing Liposhot, and for good reason!  Liposhot is now a groundbreaking and essential ingredient in Dual Effect Milk Jelly, as well as other products in the new Pantene Miracles range. It not only leaves the hair frizz free but also as soft as cashmere!
Pantene Miracles Jelly Protection
After the milk mends the hair cuticle, the smooth jelly fills any remaining gaps in the hair cuticle and seals in the moisture for a super smooth finish. While you sleep, the jelly prevents excess loss of moisture caused by our beloved pillows, leaving the hair moisturized and set beautifully. And you know what that means? No more bed hair!
---
Pantene Miracles
Pantene Miracles Dual Effect Milk Jelly is proof that miracles really do happen! So if you've been searching for a treatment to lighten up your morning hair routine, try Dual Effect Milk Jelly.
If you're shopping for Japanese haircare products, check out our range on Wonect! We have a range of authentic and fresh Japanese products shipped direct from Kyoto, Japan.
Japanese health and beauty products delivered worldwide at Wonect!