Mucota Aire Dune Ex Treatment Review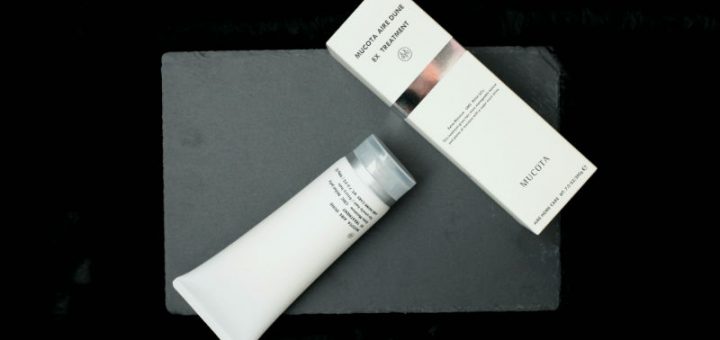 Hi everyone, today I'm going to be reviewing Mucota Aire Dune EX Treatment! This is a hair treatment designed to repair, add moisture, and tame unruly hair.
---
Product Information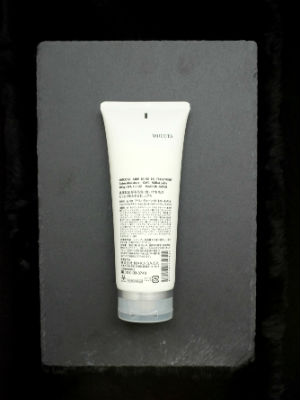 The product description reads as follows:
MUCOTA Dune EX Treatment contains CMC, a group of ingredients the Mucota Aire line is based around. The high concentration of each ingredient works to efficiently restore damaged hair. This product is from the Extra Moisture line which provides the highest level of care and moisture. This product gives hair a more manageable texture and plenty of moisture with a super moist shine. For unruly hair/frizzy hair.
In case you were wondering, "CMC" is a collection of four ingredients: 18 MEA, ceramides, cholesterol, and fatty acids. The Mucota Aire line is formulated around the idea that damaged hair lacks these four ingredients. By adding them back, you're restoring a healthy look to the hair.  
---
How to use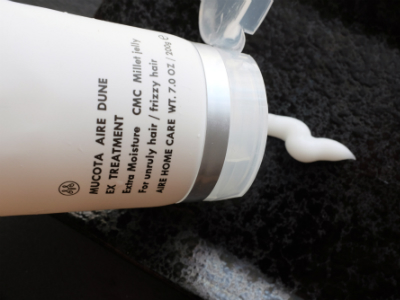 According to the instructions on the bottle, you should apply this product to your hair after shampooing. Work it through the hair well, and rinse with warm water. From my own testing, it also works great as hair mask!
In terms of texture and scent, Mucota Aire Dune EX Treatment is quite rich, but not hard to work with. I found using a comb helped make sure it spread evenly through the hair. I didn't notice any dripping when I was using it as a mask which is great! It has a mangosteen scent which, as I mentioned in my last Mucota review, smells to me like mango and is pretty fresh and nice!
---
Testing and recommendations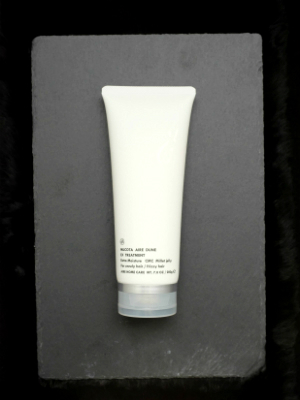 From my own testing, the hair softening and smoothing abilities of Mucota Aire Dune EX Treatment is really impressive. When I say smoothing, I mean that each strand itself feels smooth, rather than the overall look of my hair smoothed out. In fact, the finish is so light and soft that my fine hair fluffed out pretty badly after drying.
This brings me to a kind of warning: this product says it helps with frizz, but I suspect that the frizz being targeted here is mainly the type that's due to damage or dryness. If this describes your hair, I think this will work very well for you. If you're like me and your hair is naturally frizzy because of the shape of the curl itself, this product didn't help tame it as much as Mucota Aire 05 did. Mucota Aire 05 seems to coat the strands and give them a little extra weight so that the frizz coalesces together, while Mucota Aire Dune EX Treatment almost does the opposite: each strand is so smooth that they appeared to separate. To put it more charitably… it's volume boosting!
One really good feature that I feel is a little understated in the description is the "manageable texture" element. Personally, my hair type doesn't tangle that much, but noticing how smooth and tangle free my hair feels makes me want to press this product into my sister's hands. She has straighter, thicker hair than me (and I hate her for it!!), but this thickness means that it tends to tangle very easily. If you have similar problems, I have a feeling this treatment could be a great addition to your hair care routine.
To sum up
If you want to repair and reduce frizz from your tangle-prone, dry, damaged hair, and love mango… this is your holy grail product! If not all of those descriptions fit, this is still a really nice, repairing product that will leave your hair feeling extremely soft and smooth. Even though this didn't solve all my problems, I dd find myself unconsciously stroking my hair after using this, and that's pretty nice in itself.
More details on MUCOTA Aire Dune EX Treatment here
---