The Silky and Milky Lamellance Body Wash (Review)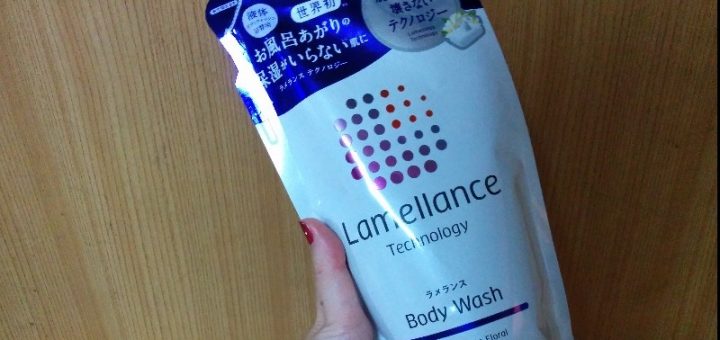 The Lamellance Body Wash is a body soap that is getting really popular since it was on started sold a few months in Japan.
The name "Lamellance" comes from lamellar bodies in the keratin layer of the skin, which are necessary to keep our skin waterproof.
Lamellance technology is designed to preserve this barrier layer in our skin, which usually can be damaged by other body wash products.
This allows the skin to keep moisture after bathing without extra moisturising care such as cream or milk.
How to use the Lamellance Body Wash?
It is recommended to use a foaming net.
Wet the net first and add a couple of squirts of Lamellance Body Wash.
Make a nice, rich foam and gently spread it over your body without rubbing too hard on your skin, then rinse off.
The original bottle has a pump, which makes allows foaming easily.
You can also apply it just like cream without making foam so much. It gives you a very moisturizing finish.
Since I just got the refill one to check the difference of its liquid texture and forming texture, I used the refill type this time.
So I form the soap without pump, just with my forming net.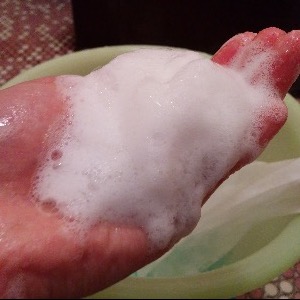 I was surprised to see it easily become rich creamy form. It's very rich so it doesn't fall from the palm even I turn the palm downwards.
A rich, milky texture
When it well form-shaped, Its texture is soft and comfortable compared to other form-type body wash I've ever tried.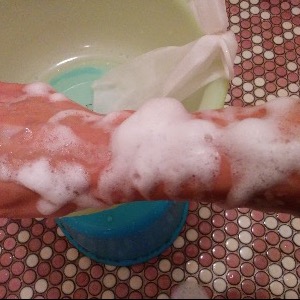 When it is rather almost liquid, it is like a creamy body milk and I can tell that it moisturizes the skin more than when it forms.
For those who prefer moisturizing finish, it's good to give it a try to use it without foaming.
It's said for normal skin, but in my opinion, it is also suitable for dry skin.
With a luxurious creamy texture, this body soap has a comfortable scent, too.
The one I tried is 'Aquatic White Floral', Woody, amber and musk 'base' scent with herbal 'middle' scent such as White Rose, Lilac, Gardenia, Magnolia and Bergamot, Green, Cassis, Apple, Aquatic 'top' scent.
It's worth trying this Lamellance body soap if you're looking for rich body soap with a nice scent!
There is another scent, Precious bouquet, which is of an elegant rose scent.
A refill and a White Floral version are both available in our Kracie range on Wonect.com, here:
More details on Kracie Lamellance Body Wash here
---