Tough vs UV, light on skin! Biore UV Aqua Rich Watery Essence Review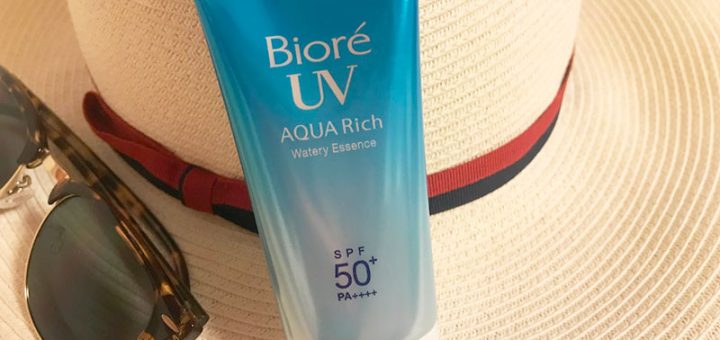 How are you guys! Summer is just about ending here in Japan… But this isn't the time to slack off when it comes to protecting yourself against UV rays!! And so!! Today I'll be talking about Biore UV Aqua Rich Watery Essence.
Maybe there might be some readers who remember me mentioning this in another article… But, I don't like gel type sunscreens with a lot of moisture in them. My skin feels dry after I put it on.
This is my first time using this product, so I'm not sure how it's going to feel??
But first, as always…
---
About Biore Aqua Rich Watery Essence!
Sunscreen (for face and body)
50g
SPF50+/PA++++
A refreshing fresh fruit aroma
Allergy tested (this does not mean that no allergic reactions will occur)
Resists sweat and water Super waterproof type (Tested for waterproofness for 80 minutes)

→ OK!   Seems like you can use it at the pool!

Removed with regular soap, face wash, or body wash. 

→ I like that! Obviously it's great to just be able to take it off with whatever cleanser you're using! 

Includes beautifying (moisturizing) ingredients: Hyaluronic acid, royal jelly extract, and citrus mix. (Orange, grapefruit, lemon extract.) 

→ Seems like that would smell good!

Works as a makeup base: For a smooth finish to foundation 

→ This is pretty common these days, right?

Includes soft water capsules containing UV protective ingredients.
(via kao.co.jp)
---
Packaging!
I think this type of packaging is pretty common for Biore products. Biore has included a lot of information on this cardboard part, but it's easy to read.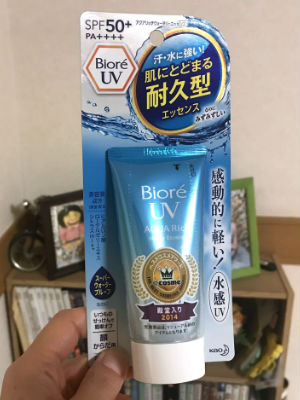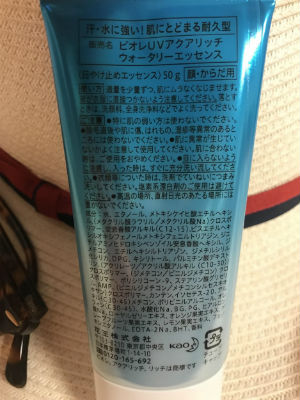 It looks like this ↓ when you take off the cap. These days you see a lot of caps designed this way to prevent leaking, right?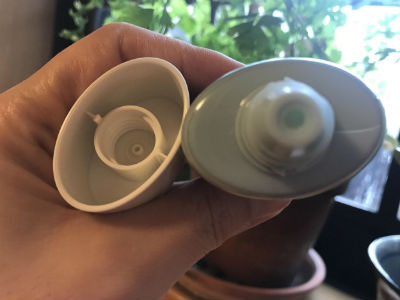 The product itself looks milky and has a slight yellow tint. It's not a gel.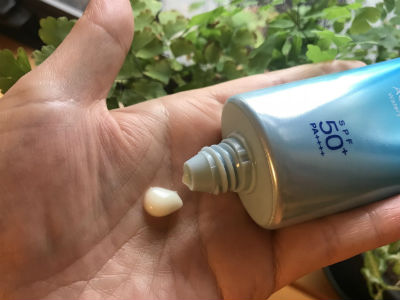 I tried it on! I just spread it on once. There's no lumps or white cast.  When I rubbed it in it sank in just like a milk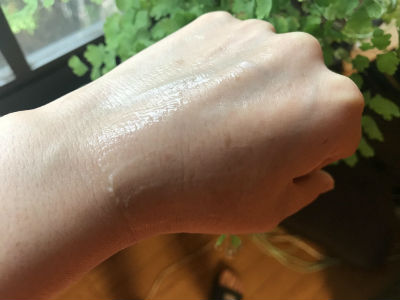 ---
"Incredibly light!" 
↑ This is written on the lower right hand of the Biore UV Aqua Rich Watery Essence packaging.
Like I mentioned in the beginning, I don't like sunscreens with a lot of moisture to them.
The reason is that once it dries, the moisture disappears and my skin feels tight, like it's dehydrated.
But I didn't experience that problem with this product at all.
It really is incredibly light! ˚✧₊⁎❝᷀ົཽ≀ˍ̮ ❝᷀ົཽ⁎⁺˳✧༚
It's SPF50+ but it's extremely moisturising. There was a real noticeable difference between the places I did and didn't apply it.  The areas where I used this product was far more moisturised. But there's no stickiness at all. Amazing!
I did some cleaning after I put this sunscreen on, and after I was able to tell that the places I applied this product to felt more moisturised. It really is resistant against water!
The scent feels clean, but it's subtle. You wouldn't be able to smell it unless you were close.The scent lingered for a while.
Just as the name says, your skin stays aqua rich!
I have to admit…  I'm using it all the time now (^_^)v
More details on Biore UV Aqua Rich Watery Essence here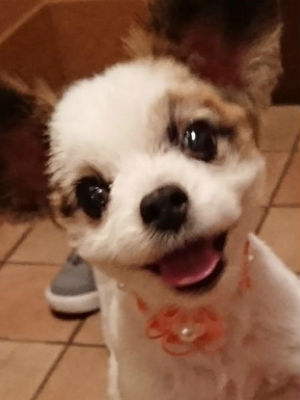 PS: By the way, our puppy is shedding, so she's light too (#^.^#)
---