"Your Name" Merchandise to Soothe the Lingering Emotions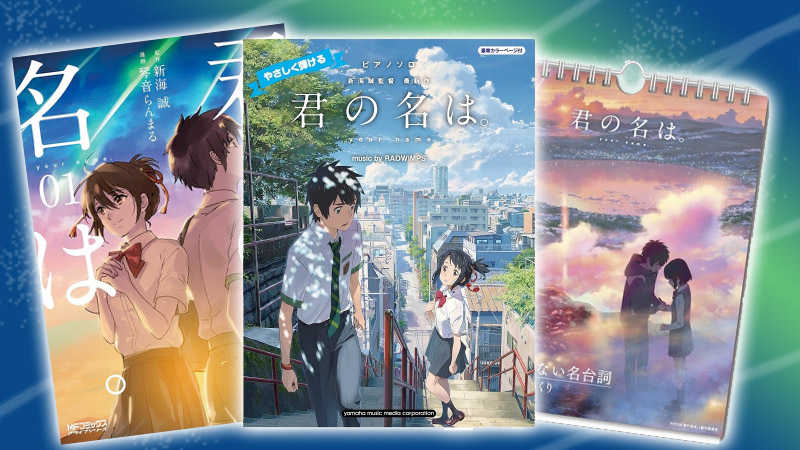 Everyone I know have told me that they want to watch the movie "Kimi no na wa" again after watching it the first time (it's the same for me!). There's this lingering sense of emotions that we want to explore after watching "Kimi no na wa", that it is not enough after that first watch. Knowing that it'll still not be enough after the second viewing, I believe it's the duty as a fan to introduce Kimi no na wa merchandise to everyone.
---
First… what is "Kimi no na wa"?!
Kimi nona wa is a Japanese animated movie that took the world by storm, and is often compared with Ghibli movies. It tells the story of two teens living each other's lives as their changed bodies, with what starts out as an amusing, lighthearted experience, to the spellbinding climax it delivers towards the end. (Darn, it's hard to describe without spoiling the movie.) The director Makoto Shinkai has worked on another notable movies include 5 Centimeters Per Second, which won the award for Best Animated Feature Film at 2007 Asia Pacific Screen Awards.
---
What Kimi no na wa merchandise are you recommending?
We'd want something that we can use (perhaps on a daily basis), and can remind us of our favourite moments in the movie. Surely, we don't need to rewatch the movie everytime we want to revisit a scene or a favourite line from the movie. We have handpicked five groups of items that you will fit into your current lifestyle easily. Furthermore, these are useful presents too, so they can be light gifts for friends or family who are into Kimi no na wa too!
---
Kimi no na wa Calendar 2017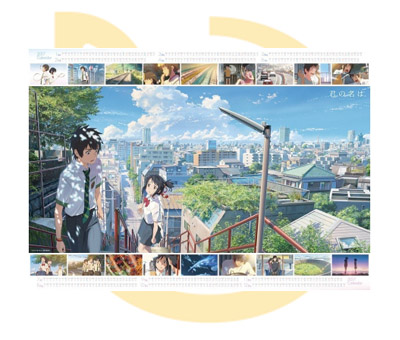 Here are two types of calendars that you can choose from. The first one is a B2 size wall calendar, with the symbolic passing of the two main characters along the stairway. Around it you can see key scenes from the movie too, while the calendar lines along the top and the bottom. The maker really knows what fans of the movie want!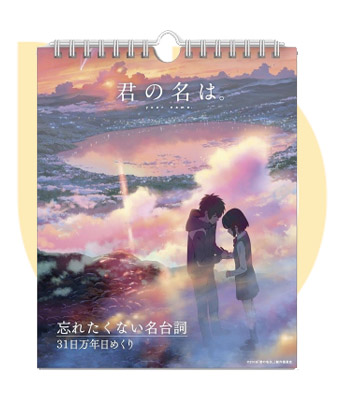 The calendar is a personal favourite! 365 memorable lines were selected from the movie and made into a daily calendar. Even if you don't know Japanese, the scenes mark where the line comes from. It's great for those exhilarating moments of "Yes! I love this part!" and lightbulb enjoyment of "Oh yea! This part was in the movie!"
---
Notebooks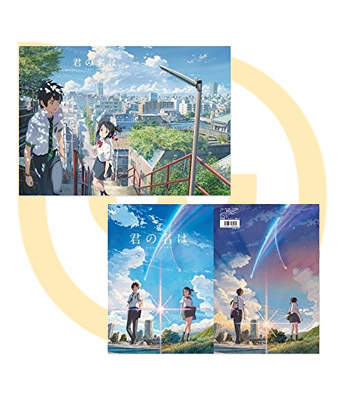 If you like writing, notebooks are essential everyday writing tools. Why not write in it a Kimi no na wa notebook! Beautiful scenes come from the movie and are used as the covers for the notebooks. Other fans of the movie is going to want to take a few peeks at the cover every time you pull one of these out! That'll be the perfect time to open the notebook wide to show how the back and front covers link become bigger pictures. 🙂
Check designs for KNNW notebooks here
---
Postcard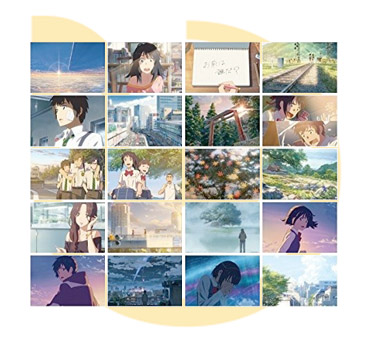 Now, postcards may be meant to be sent, but they are also great for picture strings on the wall! Instead of getting just a movie poster, doing a picture string with these postcards offer a lot more customisation. You're free to arrange your favourite scenes, group them into different areas… your wall design is only limited by your imagination!
There are 20 pieces of key moments of friendship, longing, mystery and humour. Do give each a look here.
Check designs for KNNW postcards here
---
Books and Comics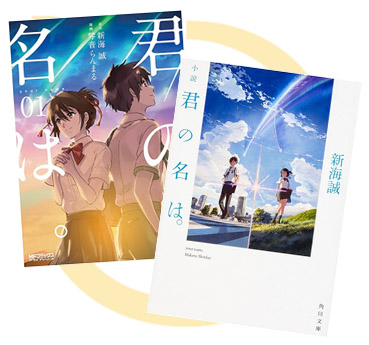 These for those who know how to read Japanese, and especially like the feel of paper between your fingers: the printed version of Kimi no na wa! You might want to put these out for a casual read between chores or during breaks. Easy to carry anywhere, unmistakable design from the movie, plenty of time to ponder overt and appreciate your favourite sections/scenes at your own pace.
---
Music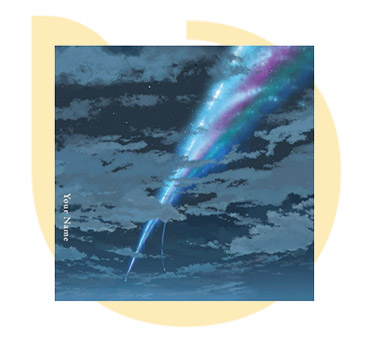 Did you know that the director worked very closely with the songwriter? They rewrite the songs and adjust the movie scenes, just so that moments in the movies would be perfect. This sort of dedication is hard to find in movie making these days. If such dedication has grabbed your heart during the movie, you might want to get this for your music player.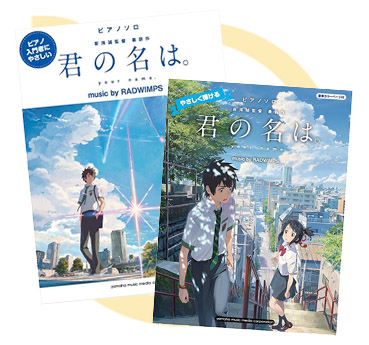 Maybe you'd like to play Kimi no na wa music on your musical instrument? Following the movie's popularity, Japan has released a number of musical scores and band scores including songs by Radwimps (the band for Kimi no na wa songs). Learn how to play Zen Zen Zen Se or Nandemonaiya from the movie, on your piano!
---
… but there are more then just five Kimi no na wa merchanise categories
Above we have introduced five sets of Kimi no na wa merchandise that should make fans happy. These will them to enjoy lingering emotions for the rest of the year, or a gladful reminder that "the Curse of '5 Centimetres'" has finally been lifted. You may check out the other items that are available on the store page.
---