What's The Difference Between Japanese Conditioners, Rinses and Treatments?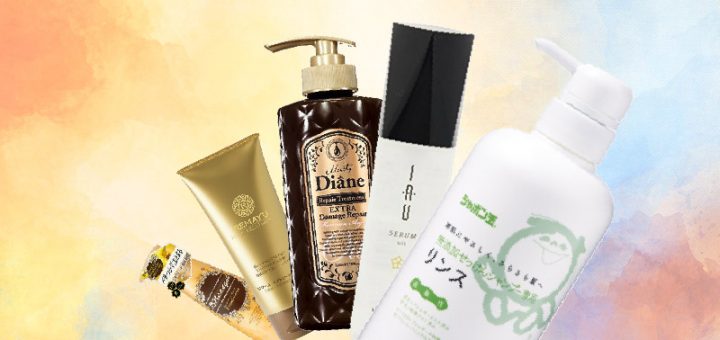 Wonect has been talking quite often about Japanese shampoos, and so we thought it'll be nice to talk about Japanese conditioners for a change. However, much like their shampoo counterparts, conditioners are not difficult to select as long as we know what we are looking for!
Even though we are looking at Japanese conditioners, we will be talking about treatments and rinses too! Because they belong in a big family of after-shampoo care, and are recommended for the health of our hair. But… what are the differences between them?
---
What is the difference between Conditioners and Rinses?
Let's start with the two whose names get used interchangeably in Japan – Rinses and Conditioners. Manufacturers often like to replace the terms with the other, so we might think that they work in the same way.
And we wouldn't be far off! Rinses are often used to decrease the alkalinity of our hair. This happens when we use certain shampoos that have such effects, especially when we use soap-based shampoos. Rinses play the role of neutralising after using these shampoos.
Conditioners can be thought of as "advanced rinses", because they usually contain beneficial minerals and moisturising agents to better make our hair look better. However, this doesn't make conditioners better than rinses, because some may turn out too stimulating for some, especially for sensitive scalps.
---
What is the difference between Conditioners and Treatments?
It's easier to tell the difference between these two, because of the way they work on the hair.
Conditioners provide repair to a certain extent to the surface of the hair strands, and has the benefit of providing a protective coating against various external stimulation. In this sense, you may find that many conditioners contain silicone, the effective ingredient in coating for the hair. (By the way, we do not need to be afraid of using silicone products!)
Treatments work differently, although they still provide repair to the hair. These contain ingredients that penetrate damaged hair strands to repair them from within. Furthermore, treatments are able to give us control over our hair quality. We need to follow instructions when using treatments, since there are wash off treatments and leave-in treatments, where the latter is often applied onto dry hair after wash. Cleanse the wash-offs properly, because we do not want them to clog the hair pores.
---
Rinse, Conditioner and Treatment: All good for the hair!
With the vast variety available for treatment products, it boils down to what we kind of benefit we want to derive from the products. This is especially true since manufacturer create them with different concept and goals in mind. Conditioners are probably preferred if your hair needs protection from external stress. Treatments may be more effective for a "from within" solution to damaged hair. In fact, many users use both, choosing based on moisture replenishment and retention, since most hair concerns arise from the lack of moisture.
With rinse and conditioner, we suggest looking to see if the purpose is to decrease the alkalinity in the hair. Since most manufacturers use replace the words often, we can often use either. However, if you have a sensitive scalp, we want to look for organic hair products are use natural ingredients as ingredients. Rinse are generally gentler on the scalp than moisturisers too, but again, we'd want to find out more about them rather than decide on the naming.
---
Let's take a look at some examples
Shabondama Mutenka Rinse
We introduced this series' shampoo in a few months back while talking about the three types of shampoos. We'll mention again that the rinse is recommended for paired use because Shabondama Mutenka Soap Shampoo is soap-based. It makes the hair more alkaline, and the rinse will neutralise the hair back to normal. If we do not use the rinse, our hair will start to feel starchy, which might lead some to mistakenly think that soap-based shampoos are not good.
We'd recommend this for users with sensitive scalps too, because the formulation is made from natural ingredients. This alos means that this rinse is free from silicone, scent, colourant and preservatives.
---
Lebel IAU Serum Oil Hair Treatment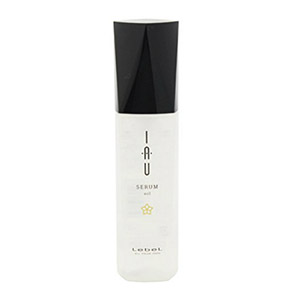 What if you have very frizzy hair? This is especially made for you.
The Serum Oil Hair Treatment comes from LebeL's IAU series, and their products are quite popular among our customers for coloured hair care. Not only does it softens unruly hair to give us more control, but it also gives our hair smooth touch and a shimmer for hair shine. This treatment achieves that by using the benefits provided by green nut oil, which is excellent in penetrating the hair core.
In fact, if your hair has very high damage, you may consider using the IAU Serum Mask instead.
---
Honeyce Deep Moist Treatment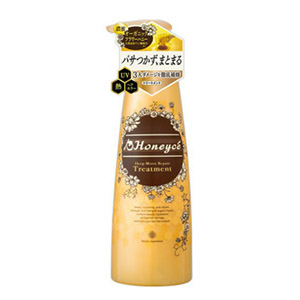 Sometimes a product comes along and have us thinking, "Wow, I didn't expect it to work so well!" And Honeyce amazes us that way in the moisturising department. This includes their Deep Moist Repair Treatment.
This treatment approaches three different damages to the hair, both externally and internally. These include UV damage, heat damage and damage from hair colouring. It is also useful to know that the treatment is made from organic sunflower honey and natural amino acid, in addition to being free of paraben, synthetic colouring, mineral oils and synthetic preservatives.
---
REMAYU Hair Treatment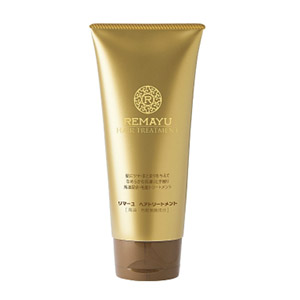 The REMAYU hair Treatment uses horse oil to moisturise and provide nutrients to the hair. Furthermore, it has a good penetrating strength, allowing ingredients to penetrate into the hair easily. The treatment contains ingredients such as birch bark extract, pearl barley extract and glycyrrhizin acid.
So if it's strong and silky hair you are looking for, you may want to consider this hair treatment (and even with the shampoo too).
By the way, this is an amino-acid based haircare product. Amino-acid based products are able to protect the proteins of our hair during use, which makes it light and gentle on the scalp. (Some have weak cleansing strength, though manufacturers are trying to change that.)
---
Moist Diane Extra Damage Repair Oil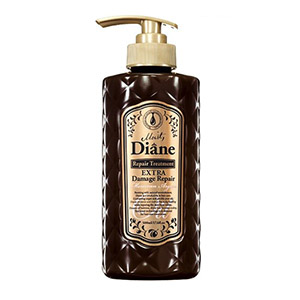 Moist Diane has a lot of products. If you are looking for something that allows the ends of your hair come together properly, or if you do colouring and perming hair treatments, take a look a Moist Diane's Extra Damage Repair Oil.
To give the treatment a highly moisturising strength that reaches into the hair, it uses three types of oil – cactus oil, mango oil and andiroba oil, all of organic nature. It also uses amino keratin for hair repair from within the strand and from the roots.
Both shampoo and treatment are silicone- and sulphate-free.
---
Love Japanese conditioners for the love they give your hair
Much like the skin, we want plenty of moisture for the hair, and that is why we want to use conditioners and treatments in our haircare regimen. Furthermore, certain shampoos wouldn't be too useful without their paired rinses.
And also much like shampoos, there are so many to choose from! So, if you have a question about the differences in some conditioners and/or treatments, drop us a comment, and we'll try our best to answer them. That's all from us, see you in the next article!
---