Why You Should Be Drinking Aojiru, Japan's Green Juice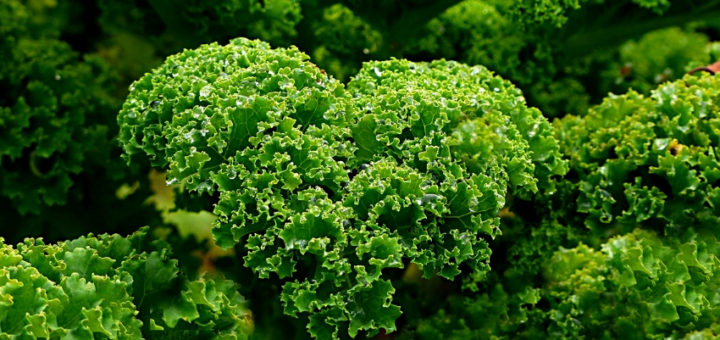 Both kale and green juice has hit the mainstream all over the world in recent years, but in Japan kale-based aojiru has been around since the 40's. Nowadays it's a household staple, and you can buy aojiru drinks in any supermarket or convenience store.
But why should you drink aojiru? It's well known that green leafy vegetables are linked to many health benefits, including weight loss, cancer prevention, and anti-aging. But for many people, it's hard to get as many of these vegetables in their diet as they would like. Whether you don't like the taste, or just find it hard to find time to shop and cook a well balanced meal every day, many people go without all the vegetables they need.
I think this is why powdered type aojiru is such a staple here. Japan is a busy country, but keeping a box of aojiru in your cupboard is about as low effort as it takes. Aojiru doesn't wilt away in the fridge when you're too busy to cook, and it takes no time at all to prepare. If you live in an area that it's hard to get kale or or similar vegetables, this is a good choice as well.
Vegetables usually have a high water content, which means that they're bulky and sometimes hard to eat in great quantities. The great thing about aojiru is that the plants are are dried and powdered– in other words, you're getting a concentrated dose of nutrients. Plus, the nutrients in aojiru are less processed than vitamins in a tablet type supplement, so they are more readily digested.
There are so many brands of aojiru, it might be hard to know where to start. In this article I'll guide you through a few of the most popular types of green juice in Japan, including some by brands that might surprise you. 
---
What exactly is aojiru?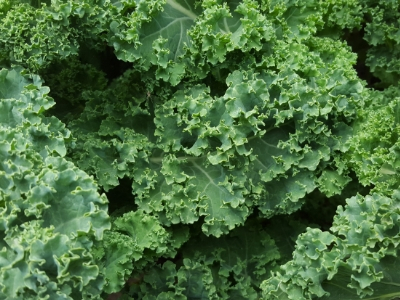 The Japanese inventor of aojiru, Dr. Niro Endo, created it in response to food rationing during the war. By turning the parts of kale and other highly nutritious vegetables that would otherwise be thrown away into a drink, he found he was able to improve his health. He also claimed he cured a number of diseases by supplementing with green juice.
Modern aojiru is usually made from kale and other green vegetables, and of course many companies compete to add a special something extra to their blend, which I will talk more about in this article.
In the past, aojiru was famously bitter, but these the modern formulations are really drinkable. As someone who didn't grow up drinking it, but started soon after I arrived in Japan, I wouldn't let rumors about the taste put you off. It's totally fine! 
One green juice tip is to try mixing it in with any type milk or juice (I think soy goes best!) You can also mix aojiru into things like pancake mix, yogurt, collagen drinks, or soup. Some people even mix it through pasta!
---
Fancl Aojiru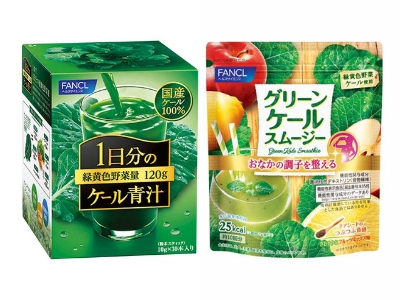 While not the first maker of green juice, Fancl has probably done most to popularize it in Japan since they introduced it in the 80's. Their green juices are usually made of 100% kale, the most nutrient dense vegetable in the world. Around 120g of kale go into each sachet, which is your full day's recommended serving of green leafy vegetables.
There are a few types of Fancl Aojiru available, including their Basic and Premium unsweetened types. These are perfect if you want a clean, refreshing drink, are avoiding sugar, or like to add your own flavorings.
Fancl also have a number of green juice based drinks, including the Fancl Green Kale Smoothie. This green juice drink contains additional fruit extract and chia seeds, but is only 25kcal a serving.
For those who prefer a hot drink, their Fancl Rich Cocoa Aojiru contains 40g worth of kale leaves, antioxidant-rich cocoa, and added fibre. Yes, it's green juice disguised as hot chocolate! This is great as a dessert when you're dieting, or as a more nutritious and filling coffee replacement.
---
Yakult Green Juice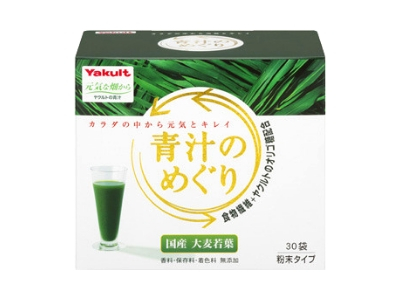 Yakult Aojiru no Meguri green juice contains young barley grass instead of kale. Just like kale, young barley has a very dense nutritional profile. Powdered young barley juice has been shown to treat vitamin B12 deficiency, which is common among us vegetarians and vegans. Young barley extract has been shown in the lab to protect human tissue cells against cancer, radiation and free radicals. Historically it also has been used as a medicinal herb for gastrointestinal, liver, and skin problems as well.
One other benefit to young barley-based aojiru is that kale is pretty easy to find in stores these days. It's hard to find young barley grass in the store, and even harder to find recipes for it. So, if you're getting a good dose of kale already, this is an easy way to diversify!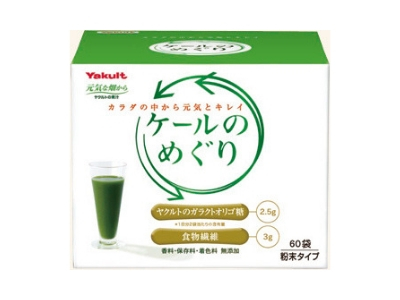 But if I haven't convinced you kale diehards, don't worry! A newer Yakult Kale no Meguri is also available.
Both types of Yakult Aojiru no Meguri also contain a fiber supplement for your digestive health. Because it's Yakult, this green juice also contains oligosaccharide, a prebiotic that promotes the growth of beneficial bacteria in the large intestine.
---
Yamamoto Kanpo Omugi Wakaba 

Yamamoto Kanpo Omuji Wakaba has been the #1 bestselling aojiru brand in Japan for eight years running. What's special about the Omuji Wakaba brand is that their method of processing the barley. This process removes any bitterness, giving it a flavor not unlike like green tea. Unlike some other barley-grass based aojiru drinks, this one is also gluten free.
There isn't a lot more to say about this one, because  it's just 100% young barley green juice! If you're not sure what green juice to start with, this bestseller is a safe bet.
---
iSDG Gagome Aojiru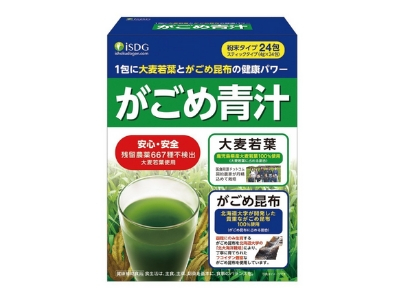 You may know iSDG from their line of popular enzyme-based diet supplements, but they also make a great young barley based green juice that is supplemented with gagome kelp from Hokkaido.
Gagome kelp is famous in Japan for its health and beauty benefits. It can be found in a range of products, but I don't think it's as popular or easy to find overseas. We all know that eating seaweed is one of the keys to Japan's famously long lifespans. This is an easy way to add seaweed to your diet while getting all the benefits of green juice, too.
---
Thanks for reading!
One other thing I will say about aojiru — if you have anyone in your life that is hard to buy for, aojiru makes a surprisingly great present from Japan. A pack of aojiru hits three big criteria for souvenirs: lightweight, long shelf life, won't break in your luggage. It's uniquely Japanese and a little novel, plus it's a nice way to show someone that you care about them being well!
If you're picking up aojiru as a souvenir, personally I recommend the Yakult type. Everyone knows it as a famous Japanese brand, and the packaging comes with gold foil, so it looks a little more premium than some other types. 
If you're not shopping in Japan, you can pick up a huge range of green juice with fast shipping worldwide on Wonect.com!