Yanagiya Hair Tonic Review – Wonect Staff Review!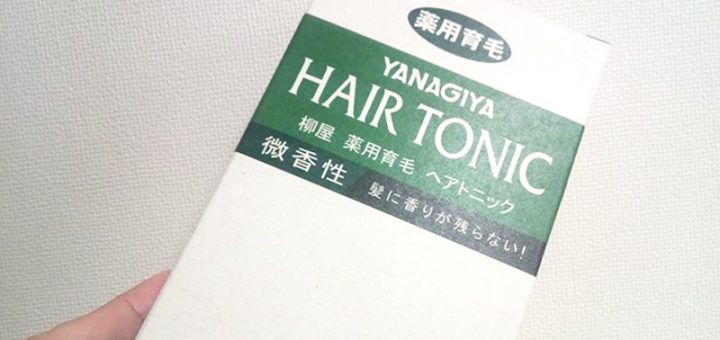 I sat down to write this Yanagiya Hair Tonic Review because I think there is still some mystery around this product, mainly "Does it work?" I have been using Yanagiya Hair Tonic for a few months now, so I thought I'll be able to give a short but honest review to how it has been for me.
In this Yanagiya Hair Tonic Review, I will be covering why I chose to use this hair tonic, how I use and what I use this for, and finally share my experience. This is different from the Yanagiya Hair Tonic review I gave on the Wonect Youtube channel, because I have now used it for a longer period of time now, and would like to refresh that review!
---
Why I chose Yanagiya Hair Tonic?
My hair care focuses heavily on scalp care. As a male, I have a tendency to have more sebum than females. Furthermore, my scalp has willingly evolved from oily into dry scalp without the permission of its owner. #thankshair
In conclusion, I was not looking a hair growth formula but a hair tonic to maintain a healthy scalp. In addition, I wanted something that had good moisturising strength for my dry scalp.
After knowing my scalp type and desired benefit, it became easy to choose, which I settled on Yanagiya. One reason I chose to try Yanagiya is because of the long history of the company. It was founded in 1615, making it's slightly over 400 years old! This means two things: (1) it has a formulation that has been perfected and persisted for four centuries, (2) it has a "grandma scent" (don't worry, they now have scentless and citrus scent version too!) I'm a sucker for established brands with a good history.
Second reason why I chose the Yanagiya Hair Tonic was because I researched reviews and they were mainly positive for users with dry and sensitive skins. The moisturising effect I was looking for is there, and also I didn't need to worry about the gentleness on skin.
---
Using Yanagiya Hair Tonic
As mentioned earlier, I am not looking for a hair growth formula, and the Yanagiya Hair Tonic is not it. Our previous article on the differences will go into more detail, but simply put hair tonic is for maintaining a healthy scalp, or improving the scalp condition. Hair growth formula, or even scalp essences for that matter, is what we want to use to stimulate hair growth.
So the important question is whether Yanagiya provides the healthy scalp I'm looking for, and the answer is yes! While I don't think it's the only product that maintains my healthy scalp (I give credit to my four different shampoos too!), it certainly worked in synergy with other product in my hair care routine.
The details, and notes to take
I spray the hair tonic after coming out of the bath, after drying my hair. This is important, because I want to avoid diluting the hair tonic, which I believed would make it less effective. There would be days when my scalp would itch because of the dryness. I didn't had a moisturiser for the scalp (unlike skincare). But the first time I used this hair tonic, it calmed down the tingles in my scalp. It could be just be the cooling effect that comes with Yanagiya hair tonics, so I continued on using through the weeks, which turned to months. I am happy to report that I am seeing and feeling a healthier scalp today!
A few things to note, however! This is not a life changing product. As I shared, I would credit my scalp health to my hair care routine, rather than just one item. But it is nevertheless one item of my whole hair care routine. The low-cost and lasting use makes the hair tonic a cheap and effective scalp health boost in my eyes.
I will not suggest using this before using this just before going to bed. Using the Yanagiya Hair Tonic will leave your hair wet, which you don't want to get it onto your pillow or bedsheets, especially if you are using a scented version.
Talking about scents, I picked the hair tonic that was only slightly scented, because I wanted to find out what kind of scent "grandmother scent" was. At first there certainly was that old scent, but it disappears about 10 min after use, and I didn't even pay attention to it after a week of use. By the way, there is no difference between the various formulas of Yanagiya hair tonics. Instead the only difference you'll find is the scent, so you should choose accordingly.
A Tip for using Yanagiya Hair Tonic!
Till today, I still do not understand the design of the bottle. It is awkward for me to hold such a big bottle. Perhaps I like to have the control, to spray directly onto the scalp, rather than just letting the hair tonic drop where its lands on my scalp.
Nevertheless, it is an easy fix! I made a trip to the 100 yen store, and picked up a small spray bottle. It is a lot easier to spray the tonic on for sure, thus giving me the control I wanted.
---
So yes, Yanagiya Hair Tonic is a good product!
The hair tonic certainly shows a positive effect for my dry scalp. Yet, it is not mind-blowing, and users with oily skin might be wondering if they can feel an improvement. However, because of its price, it makes the hair tonic a very accessible item for a maintaining hair tonic. You will not want this as a hair growth formula, but it could be a great support to prepare your scalp for successful hair growth. I'm including price references for the normal version and the scentless version:
If you'd like to take a further step for hair growth, you'd want to read the article here to see whether you'd want a hair growth formula or a scalp essence. Or if you'd like to go revisit the video review, you can find it on the Wonect YouTube Channel.
---