Suntory Milcolla Collagen Powder Review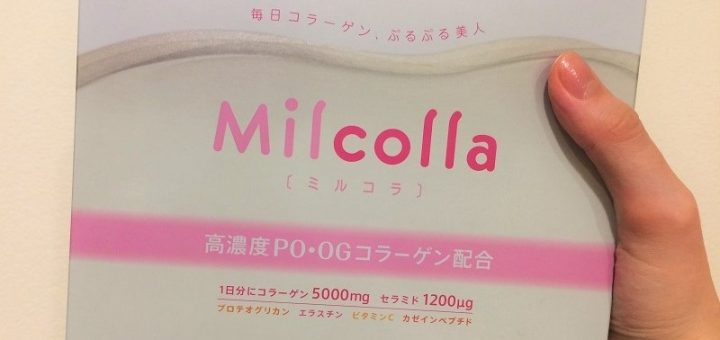 Hi, it's Ina with another product review. This time, I took Milcolla collagen powder for 15 days to test out its effects. It's the first time I've tried a collagen supplement, but it's one of the most popular in Japan.
Generally collagen supplements are marketed towards middle-aged and older women, but some have suggested it can have benefits for younger people too.
Collagen and elastin for younger people
We've written a lot about different types of collagen on this blog, so I'm not going to bore you by repeating that. If you haven't read our other articles, please check them out.
When it comes to ingestible collagen and elastin, there's still not a whole lot of research that proves or disproves their effectiveness for various conditions. There's nothing to stop collagen and elastin powders being broken down into amino acids and digested just like any other protein.
However, looking around the internet, you may have seen collagen and elastin supplements recommended to remedy the following:
Wrinkles and aging skin
Joint pain
Digestive problems such as constipation and bloating
Insomnia
Overeating and snacking
When you're in your twenties or early thirties, you probably aren't thinking much about spending your hard-earned cash on anti-aging products, but you might be affected by the other problems listed above. So let's take a closer look at just one of the Japanese collagen supplements available.
SUNTORY Milcolla Collagen Packaging
Milcolla comes in a big box with 30 individual packets of powder inside.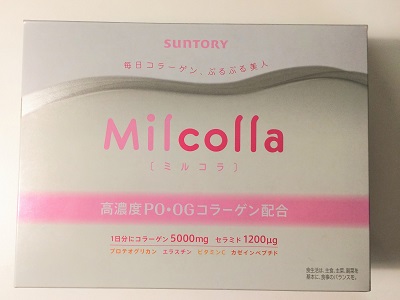 More details on Milcolla Collagen Powder here
This product contains both fish- and pork-derived collagen. Unfortunately that is not actually made clear on the packet (>.<)
The main ingredients are collagen, ceramide, elastin and proteoglycan.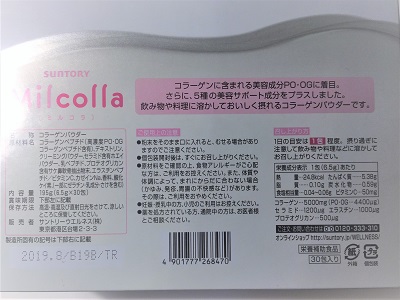 Please note, it says not to take these supplements if you are pregnant or breast-feeding. There has not yet been enough research on the safety of these supplements for developing foetuses or young children.
It also warns you not to ingest the powder directly because it's a choking hazard. Make sure to dissolve it in some kind of liquid first.
Taking the powder
Inside the box, there are individual daily doses of powder (6.5g) so you don't have to worry about accidentally taking too much. The powder is white and has a very faint smell.
My impressions of Milcolla collagen
I found, as many other people did, that the Milcolla collagen powder helps keep you feeling full for longer. Other protein powders would have similar effects.
I haven't taken other kinds of protein supplements. But my sister is a professional athlete and when I lived with her she often drank various protein mixes which almost always had a slightly unpleasant taste or smell. In that sense this powder is great because it adds very little texture and virtually no taste to most drinks. Personally I wouldn't recommend adding the powder to green tea or similar teas as their texture is very thin to begin with, and the powder changes the taste a lot. But in coffee or black tea with milk, the powder is hardly noticeable.
In the morning I don't have much appetite, but if I don't have enough for breakfast then I'm so hungry by 11 o'clock or so that I can't concentrate on my work. So for me, this powder is a really convenient way to feel full for longer by simply adding it to my morning tea or coffee.
I have seen other collagen reviews where people say it helped them sleep better. I have a lot of problems getting to sleep, so I tried taking it in the evening, but I didn't notice any strong effects.
Also others have noticed improvements with regards to joint pain, but I didn't have that kind of pain to begin with.
I think the powder did help my digestion a bit. I felt better after eating carb-heavy meals, which can often make me feel bloated.
I didn't notice any changes in my skin, hair or nails. Of course, I only took the powder for 2 weeks, so I can't comment about effects in the long-term.
In summary
Pros:
Very weak taste and smell
Dissolves well, especially in hot liquids
Individual packets with a daily dose for convenience
Keeps you feeling full for longer
Appears to help digestion
Cons:
More expensive per gram than other protein powders
No cosmetic effects in the short term
Would I buy Milcolla collagen again? Well, I'd like to try some other protein powders to compare the prices, effects, and tastes, but there were no side-effects from this powder and I did see some benefits right away.
If you're in your twenties or thirties, I'd say it's fairly unlikely that eating collagen or elastin is going to have an effect on your looks. It's possible it will have a preventative effect against future wrinkles, but we just don't have evidence of that yet.
But if you're suffering from any of the symptoms I've mentioned, I think collagen may be worth a try.
And of course remember the holy trinity for healthy-looking skin: sleep, a balanced diet and plenty of sunscreen.
I'm going to be reviewing some other collagen brands soon. See you next time!
---