Shiseido Professional Aqua Intensive Treatment 1 Review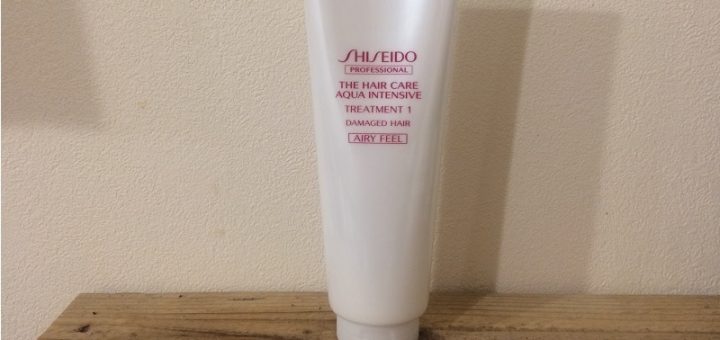 Hi everyone, this is Ina with a quick review of Shiseido Professional Aqua Intensive Treatment 1.
My hair type
Over the past few years I've been on a constant quest for suitable hair products.
My hair tends to be more on the oily side rather than dry or dehydrated – even more than usual in the humid Kyoto summer (>_<) One wash with the wrong type of shampoo and my hair feels greasy even right after I've washed it.
But I also tend to get dry and split ends. My hair is neither naturally straight nor naturally curly, so I often blow-dry or straighten it even if I don't have any important event to go to, and too much styling can damage the ends.
In addition to these issues, my hair is quite thick and takes a long time to dry. A lot of hair conditioners and treatments are too rich and creamy for me to use, leaving my hair feeling heavy or greasy even if I wash them out thoroughly. But the Aqua Intensive Treatment claims to have a lighter, airy texture, so let's see if it works for me…
Packaging of the Aqua Intensive Treatment
The bottle is simple in design and doesn't say a lot on the front: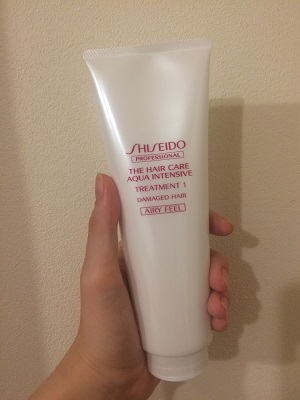 More details on Aqua Intensive Treatment 1 here
It contains 250g. On the back it says it repairs various kinds of damage and contains a special technology to moisturise hair from the core.
You may also have seen the Shiseido Aqua Intensive Treatment 2 which has a very similar bottle. What's the difference?
The Treatment 2 has a "moist feel" rather than the "airy feel" of Treatment 1. Given my hair type, the lighter "airy feel" is probably going to work better for me. Someone looking for a treatment with a richer texture might want to try the "moist feel" Treatment 2.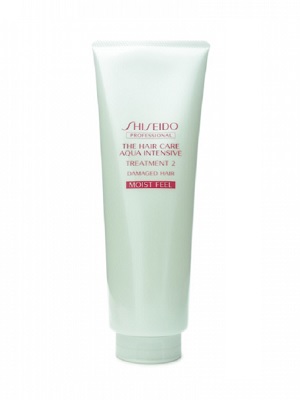 More details on Aqua Intensive Treatment 2 here
Using Aqua Intensive Treatment 1
As with other hair treatments, the instructions say that after applying shampoo and rinsing, you should spread the treatment through your hair and rinse thoroughly.
It says to apply the treatment over your whole hair. I tried that and also tried applying the treatment only to the ends of my hair. As I expected, I got a slightly better result only using it on the ends. My scalp wasn't in need of a conditioner or treatment.
However, since it really does have a lighter and more frothy texture than other treatments, it didn't adversely affect my hair when I applied it all over.
You don't need to use a huge amount of treatment to see the effects. I used about this much or a bit more for one wash, applying it to the bottom 10-15cm of my hair.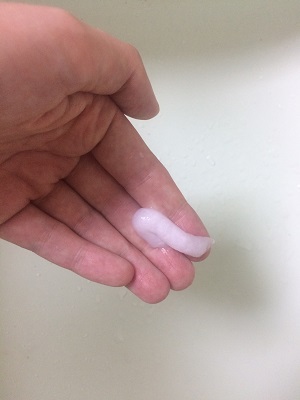 Here's my hair straight after washing, having applied the treatment only to the bottom half of my hair: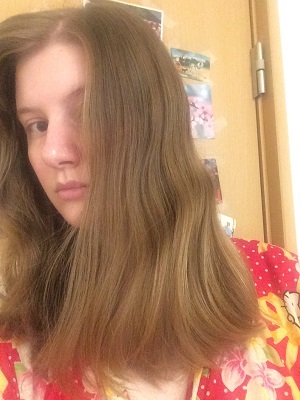 By the evening, it's still quite soft and smooth: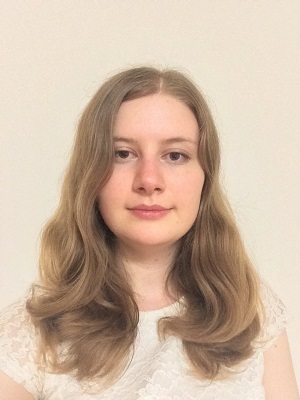 The smell is not very strong – the advertising calls it "herbal" but I'd say it's more of a gentle floral scent. Good for me, since I don't like herbal scents.
Summary
This is an effective treatment that feels very light and left the ends of my hair a lot softer. I'll use it again occasionally when I feel like my hair's drying out. Probably I'd find more use for it in the winter.
Next time I'm going to look at one more Shiseido hair product, so stay tuned for that. In fact, if you are interested in comparing the Hair Professional series, you can visit our guide to the available Shiseido Professional shampoos and treatments. You'll be in for a treat!
---