Build your Perfect Routine! How to Choose Lebel IAU Haircare Products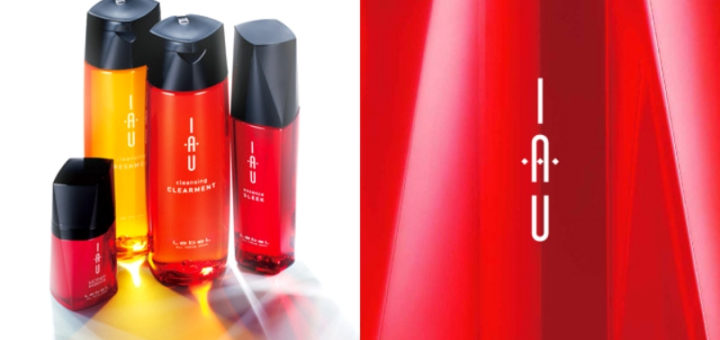 Lebel IAU is one of the most popular ranges of Japanese haircare products among our customers at Wonect. But since there are quite a few types available, they can be a little hard to choose!
In this article I'll give you the rundown of the different sub-brands under the Lebel IAU line, and give some tips about how to choose the right products for your hair type.
---
What is the Lebel IAU line?
The Lebel IAU line is a comprehensive range products for salon and home use designed to care for the hair and scalp. This is a high quality series that is very popular both in Japan and overseas.
There are five sub-brands under the Lebel IAU line, all designed for different purposes. Read on to find out more about each line and how to choose individual products from each!
---
IAU Cell Care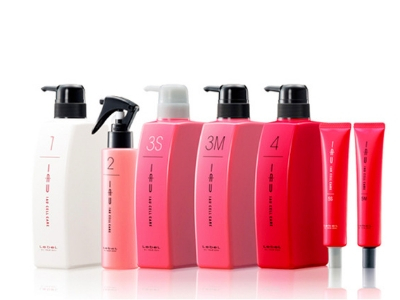 IAU Cell Care is a salon treatment system that system that  focusses on replenishing the elastin in the scalp that we begin to lose from our mid-twenties onwards. A lack of elastin causes the skin that surrounds our hair roots to loosen and weaken, causing hair to lose volume. By moisturizing and replenishing the skin with elastin, you'll see not only better body and volume but increased shine and growth as well.
This is a salon-only treatment, so it's best to leave it in the capable hands of a professional. Next, we'll go into more detail about the products you can use at home.
---
IAU Home Care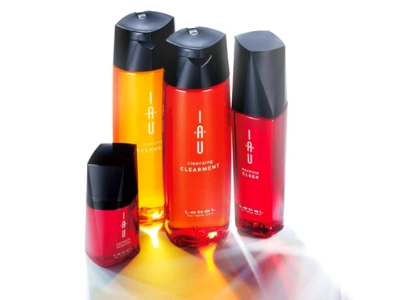 This IAU Home Care line is probably the most popular and well known range in this series. It consists of a line of shampoos, conditioners, masks, and a serum that can be mixed and matched to suit individual needs. This line is suitable for most hair types, but be sure you read the description of which product is designed for what hair type for best results.
IAU Cleansing
Freshment Shampoo: For oily hair. Creates a dense and creamy foam, removing stubborn excessive sebum while protecting moisture. Please be aware, though, that using on very damaged hair may run the risk of further drying the hair. Lebel IAU Relaxment is designed to be used on damaged hair.
Clearment Shampoo: Lebel IAU Cleansing Clearment is a cleansing shampoo for normal hair types. Lathers to a creamy foam that works easily through the hair and scalp. Cleanses the hair so that it can easily absorb the treatment ingredients of other products you use.
Relaxment Shampoo: Lebel IAU Relaxment is a cleansing shampoo for dry, dehydrated, or damaged hair. Its fine and creamy foam spreads easily over the hair and scalp, cleaning away impurities for clean hair that soaks up the ingredients from masks and treatments.
IAU Treatments
Silky Repair Treatment:  This treatment is best for those who want a lightweight, volume-boosted finish. This is a great choice for those with fine or thin hair that tends to get weighed down by heavier treatments. Its main moisturizing ingredient is silk PPT extract, and its fragrance is lighter and fresher. This product makes hair smooth, light, and easy to style.
Melt Treatment:  This treatment has a richer texture for a more deeply-moisturized finish. It's great for thick, curly, or dry hair that needs a more more dense treatment. Its main moisturizing ingredient is meadowfoam seed oil, and it reduces frizz for a more sleek, easy to handle finish. It has a warm, relaxing scent.
IAU Masks
IAU Mask: This is a deep moisture treatment that provides concentrated care for colored hair. 12 types of plant derived oils in a rich lipid base work inside the shaft to repair colored hair that has become brittle from everyday damage. Use once or twice a week for shiny, healthy hair.
IAU Deep Mask: Lebel IAU Deep Mask is a more concentrated hair treatment for unruly and damaged hair. This mask works deep inside each strand to prevent frizz and reduce the effect of humidity and environmental damage. Creates an easy to style, smooth finish that lasts. Hair will be tangle free and easy to style without greasiness or added weight.
---
IAU Lycomint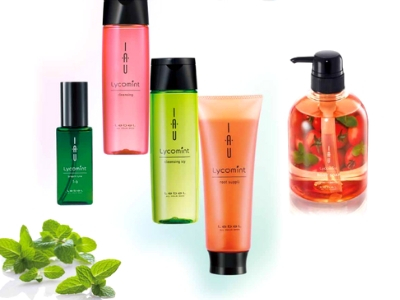 The Lycomint series is a range of refreshing and moisturizing anti-aging treatments for the scalp formulated with lycopene rich tomato extract and natural mint. This range is best for normal to oily hair.
Lycomint Cleansing Shampoo: Keeps your hair healthy with moisturizing and refreshing ingredients. Effectively cleanses excess sebum that causes odor, greasiness, and hair loss, without stripping away moisture. Removes excessive sebum and has a mild cooling effect. Silicone free.
Lycomint Cleansing Icy Shampoo: Similar to the Cleansing Shampoo above, but with a stronger cool menthol sensation. Silicone free.
Lycomint Root Suppli:To be used after Lycomint Cleansing Shampoo as a scalp-nourishing treatment. Firms and conditions the scalp for volume, moisture and hair growth.
Lycomint Body Soap:An anti-aging body wash that firms and smooths skin. All cleansing ingredients are 100% plant derived.
A deep scalp-cleansing product called Lycomint Breath Tune 1-B is also available in the Lycomint line. Unfortunately, it is for salon use only, so ask your hairdresser!
---
IAU Serum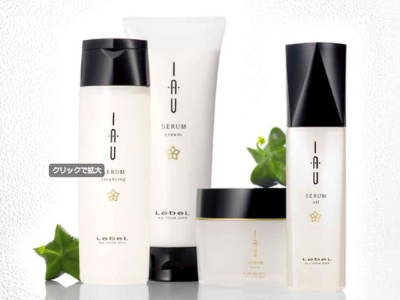 The IAU Serum range nourishes unruly curly, kinky, and frizzy hair from the inside out, delivering soft and easy-to-style hair. If you find that your hair is thick or hard to tame, we recommend you choose this series instead of the Lebel IAU Home Care line.
IAU Serum Cleansing (Shampoo): This silicone free shampoo foams to a creamy, dense lather that gently but deeply cleanses the hair and scalp, leaving your hair feeling fresh and pliable.
IAU Serum Cream (Conditioner): Delivers hydration deep into each strand of hair and ensures that the hair's texture is uniform from root to tip.
IAU Serum Mask: This special care mask cares for highly damaged hair that tends to frizz by delivering moisture into the core of each strand.
IAU Serum Oil:A leave in treatment that gives a shiny, silky texture to stiff, brittle hair, for a hydrated feel that lasts.
---
IAU Essence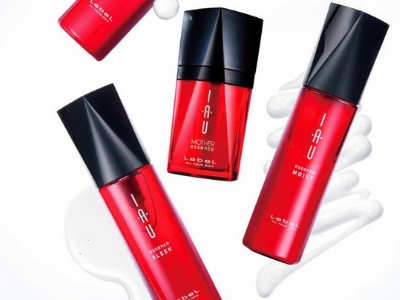 The IAU Essence is a range of leave in treatments that protect from heat, UV, and environmental damage. Formulated with botanical extracts including avocado, sugarcane, soy, and coconut, these serums repair damaged or aging hair, leaving it smooth and shiny. Rose and rosemary extracts lend the hair a gentle and relaxing fragrance.
These leave-in treatments can be added any of the above Lebel IAU routines as the final step before styling, or used on their own alongside other brands of products.
IAU Essence Moist: A milk-type essence that moisturizes hair for a fresh, supple, hydrated feel. Best for those with dry or curly hair. Formulated with white jelly mushroom, which has 120% the moisture-retentive ability of hyaluronic acid.
IAU Essence Sleek: Oil type essence for a tangle-free, smooth and soft finish. Best for those with frizzy hair, or those with straight hairstyles. Formulated with jojoba essence, a lightweight and easily-absorbed oil. Evenly moisturizes each strand for a sleek, light, frizz-free look.
IAU Essence Forti: A cream-gel essence that gives the hair lightweight volume and bounce. Best for those who want more volume or a lightweight hairstyle. Formulated with Keratin PPT, derived from feathers. This ingredient that transforms into a macromolecule inside the hair strand, adding bounce.
---
Looking for other Lebel products?
If you're looking to buy Lebel products overseas, Wonect stocks the full Lebel IAU series, plus Lebel Proedit, Trie, and more, with free express shipping available worldwide. Check out our full range here!
Are you looking for a particular Japanese product? Get in touch with us by chatting with us on Wonect.com or leaving a comment below. Our English speaking staff in Japan can help you out!