Your Biore Sunscreen 2018 Lineup Explained! (With FAQs)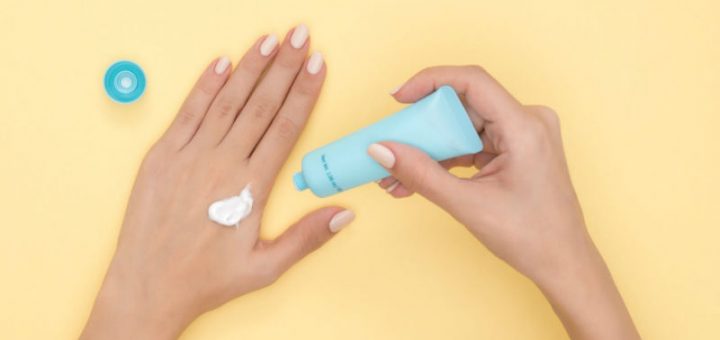 Biore sunscreens attract attention year after year for their quality, value for money, and ease of use. For those new to Biore's lineup, though, the selection can be a little overwhelming. Luckily, it's not as complicated as it might seem at first glance!
In 2018, the Biore sunscreens are broken down into four lines.
Aqua Rich series: Incredibly light! UV protection with a watery feel.
Smooth UV series: Non-sticky! Smooth UV. (Also known as the SaraSara UV series.)
Kids series: Unscented, no artificial colors, alcohol free.
Makeup Base UV series: SPF 50+ and the ability to protect your makeup's finish.
In this article I'll explain the features of each line and the difference between the individual product. After reading, I hope you'll have a good idea of what Biore sunscreen suits your needs best!
---
Aqua Rich Series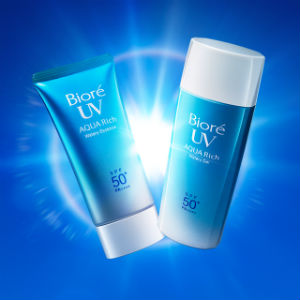 (Image via kao.co.jp/bioreuv)
There are four products in Biore's Aqua Rich sunscreen lineup: Aqua Rich Watery Essence, Aqua Rich Watery Gel, Aqua Rich BB Essence, and Aqua Rich Whitening Essence.
All sunscreens in this line feature very high UV protection (50+ PA++++), a lightweight, moisturizing feel, and a fresh fruit aroma. Additionally, they are all suitable as a makeup base or primer, and include skincare ingredients including hyaluronic acid, royal jelly extract, and citrus extract (orange, grapefruit, and lemon.)
Please check out the following chart for a more detailed breakdown of the differences between these four products.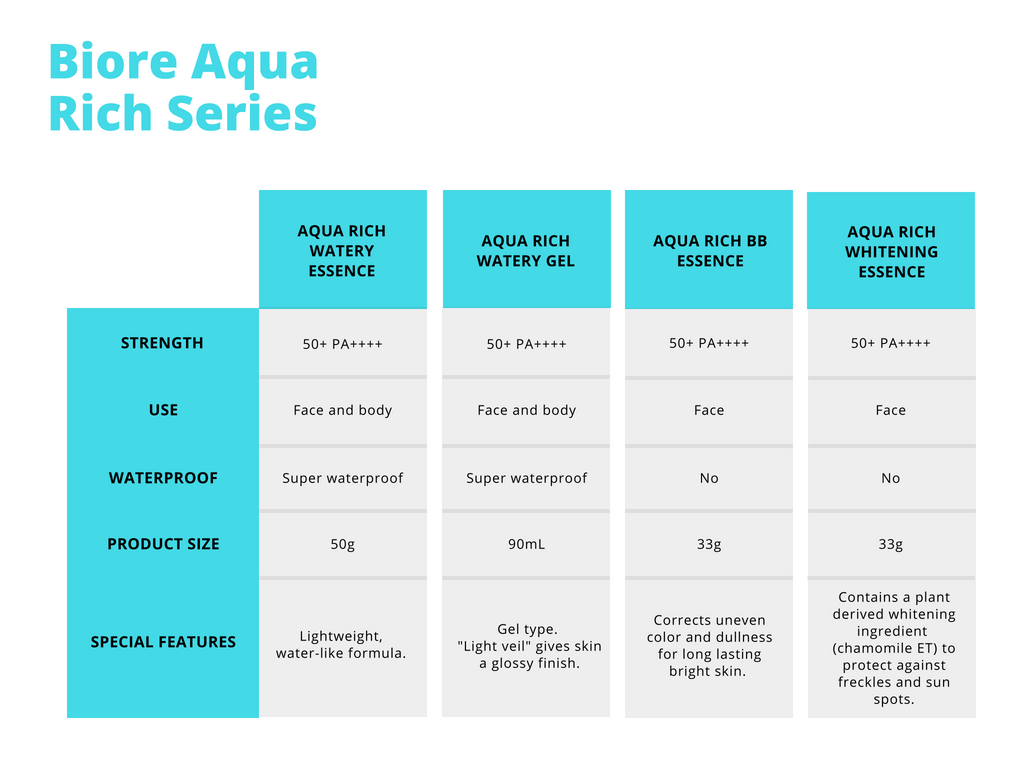 ---
UV Smooth  (SaraSara) Series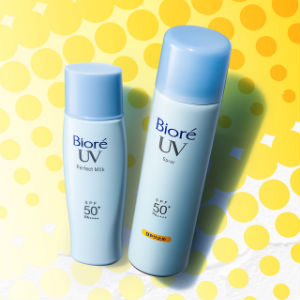 (Image via kao.co.jp/bioreuv)
Biore's UV Smooth Series (also known as the SaraSara series) includes four products: Quick Dry Smooth Spray, Smooth Perfect Milk, Smooth Bright Milk, Smooth Face Milk. All products have a non-sticky, smooth feel after applying. The Quick Dry Smooth Spray dries clear and can be sprayed over makeup or hair, which is great for touch ups during the day. The Smooth Perfect Milk can be used all over the body, while the Smooth Bright Milk and Smooth Face Milk have particular features that make them more suitable for facial use— light correcting and oil absorbing powders, respectively.
For a more detailed breakdown of how each product differs, please check out the chart below: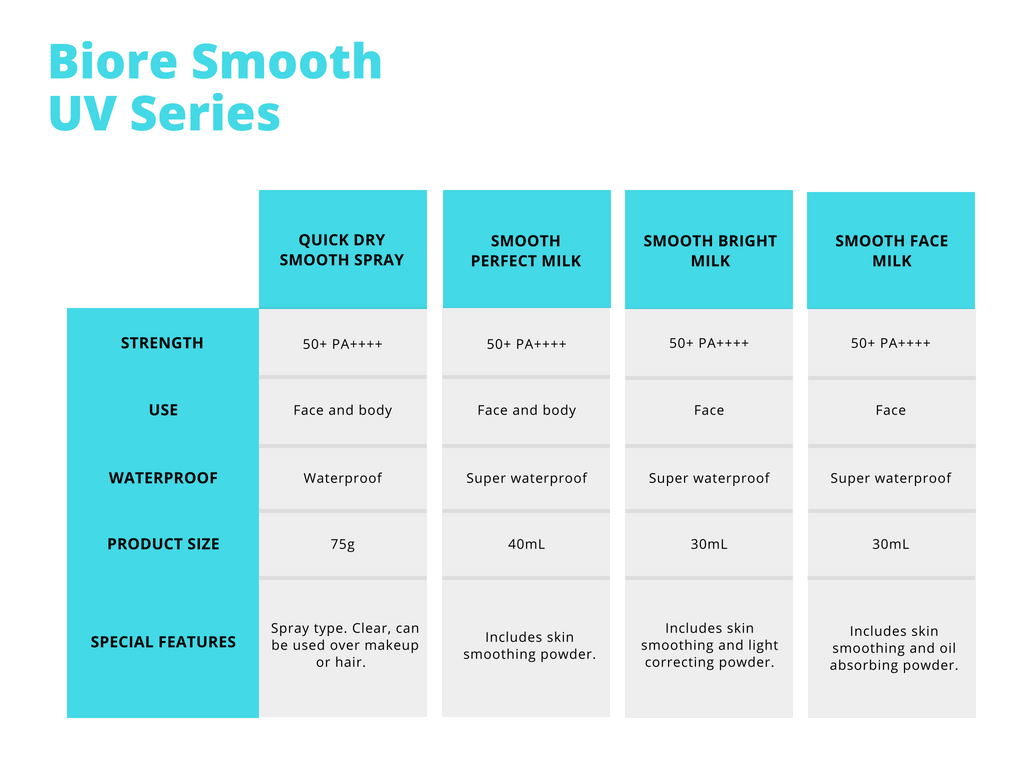 ---
Kids Series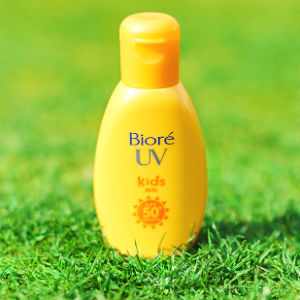 (Image via kao.co.jp/bioreuv)
This line of Biore products features only two types: Nobi-Nobi Kids Milk and Mild Care Milk. This line of sunscreens are gentle on childrens' sensitive skin while being protective enough for adults to use as well. Both products are allergy tested, unscented, with no artificial coloring, and are alcohol free. They can be used on the face and body, and removed with regular face or body wash.
NobiNobi Kids Milk is SPF 50+ PA++++, waterproof, and features a "supple veil", which holds up against sweat, water, and friction. It also includes Vaseline as a moisturizing ingredient and is low pH.
Mild Care Milk is SPF 30 PA++, not waterproof, and is designed to form a "smooth veil" to protect the skin's moisture. It contains sunflower extract as a moisturizing ingredient and features a water base which adapts to the skin for a long lasting smooth, non-sticky finish.
---
Base UV Series

(Image svia kao.co.jp/bioreuv)
Biore's Base UV Series features three products that help with different skin concerns: Oil Control Base UV, Bright Up Base UV, and Covering Base UV. While all three are SPF 50+ PA++++, they are not waterproof, and are designed to be used on the face.
Oil Control Base UV includes sebum controlling ingredients to protect against shine and foundation wear due to sebum. Biore recommends this product for those with shine on their nose and cheeks or a oily t-zone.
Bright Up Base UV includes brightening pearls for a luminous finish. Recommended for those concerned about yellow-toned skin dullness or who are seeking a bright finish to the face.
Covering Base UV includes a multi-coverage powder to cover annoying spots and pores. Recommended for those who want to cover spots or freckles, or those who have visible pores on their cheeks or nose.
---
Frequently Asked Questions
Next, I want to answer some questions left by viewers on our YouTube channel about Biore sunscreens.
Which Biore sunscreen has the highest UV protection?
Answer: The highest rated Biore sunscreens are the ones with a SPF 50+ and PA++++ rating. For added protection, choose waterproof or super waterproof sunscreens. Even if you're not going in the water, they'll hold up better against sweat, sebum, and moisture during the day. Just a reminder though, these sunscreens wash off with soap, so if you're using sunscreen on your hands make sure to reapply after hand washing.
If you want to learn more about the Japanese method of labeling sunscreens, check out our related article: SPF is about Time, PA is about Strength.
Do Biore sunscreens have a matte finish?
Answer: Most Biore sunscreens have a somewhat neutral finish. This means that unless otherwise specified, you're not going to look remarkably more matte or dewy after applying them. The upside to this is that you can choose makeup with your desired finish depending on your look for the day. However, if you don't wear makeup, or really want to target the shiny areas of your face, there are number of items in the Biore lineup designed for this very purpose!
Biore Smooth UV Smooth Face Milk: Contains an oil absorbing powder to reduce shine.
Biore Oil Control Base UV: Contains sebum-reducing ingredients which target oily t-zones for a more matte finish.
Can I reapply Biore sunscreens over makeup?
Answer: When my colleague and I talked about this question, our knee-jerk response was "nope!" As I thought more about it, though, I became curious. I usually use powders to touch up, and had never tried a liquid sunscreen over makeup before. That evening, I made myself a guinea pig using the Biore Aqua Rich Watery Gel. My method was to spread the sunscreen over the palms of my hands and gently press it into the skin. Not only did the sunscreen not ruin the makeup, it actually seemed to refresh my tired end-of-day look. Even more curious now, I also applied the sunscreen over a powder foundation– the results here were also surprisingly good! It seemed to set the powder and then disappear, which was not what I was expecting.
There are three big caveats to my experiment though: the first is that I only tried the Aqua Rich Watery Gel, and other formulations might vary. Since makeup formulations vary so much, I'd recommend everyone try a similar evening test with your regular sunscreen and makeup before you risk it in the field!
The most important note is that experts recommend you apply sunscreen to clean, dry skin for the best protection. I would highly recommend you follow this advice whenever you possibly can. That said, if I was in a situation where I had to choose between reapplication over makeup or none at all, I would err on the side of sunscreen! Just be aware that you may not be getting the label's full protection in that case.
If you spend a lot of time in the sun and regularly re-apply over makeup, I recommend the Biore Smooth Quick Dry Spray. You can use this product over makeup or even over your hair to protect your scalp.
Are Biore sunscreens comedogenic?
Answer: To answer this questions I looked up the ingredients for all the above Biore sunscreens on CosDNA. (I highly recommend this site if you are concerned about avoiding comedogenic, or potentially acne-triggering, products.) The majority of the Biore sunscreen lineup scored fairly low on comedogenic ingredients– that is, no ingredients going above a 2 out of 5 on CosDNA's own scale. The two exceptions I found were the Biore Smooth UV Bright Face Milk Sunscreen and the UV Base series. The Biore Smooth UV Bright Face Milk contains CI-73360, a pigment rated 3 out of the 5 point scale. The Biore UV Base series contains Isopropyl Palmitate, which rates as 4/5 for being potentially comedogenic.
Remember, these ratings are merely a guideline. But, if you are acne prone I would recommend the following products, which all scored very low as acne triggers. None of these products contain any ingredients over a 1 out 5 on CosDNA's comedogenic scale:
Can I wear Biore sunscreens overnight?
All Biore sunscreens should be removed with cleanser, soap, or body wash at the end of the day. While occasionally falling asleep with your sunscreen on probably won't do too much damage, for the sake of your general skin health I'd recommend a good nightly cleanse! Sebum, bacteria, dust, and environmental pollution all accumulate on your skin during the day which can lead to skin problems.
If you were considering wearing one of the Biore sunscreens overnight because some have skin-correcting finishes, there is a better option! There are a number of Japanese skincare-cosmetic hybrids made for this very purpose. One example is the Ettusais Skin Care Powder, which gives a bright, smooth look, but is actually a skincare product– totally fine to wear to bed!
---
Thanks for reading!
We hope this breakdown has helped you choose your next Biore sunscreen! If you're still not sure, feel free to ask the Wonect staff by contacting us on our website or commenting below.
If you're shopping for Japanese products, check out our range on Wonect! We have a range of authentic and fresh Japanese products shipped direct from Kyoto, Japan.
Japanese health and beauty products delivered worldwide at Wonect