Sweat Odours (and How Not to Smell!)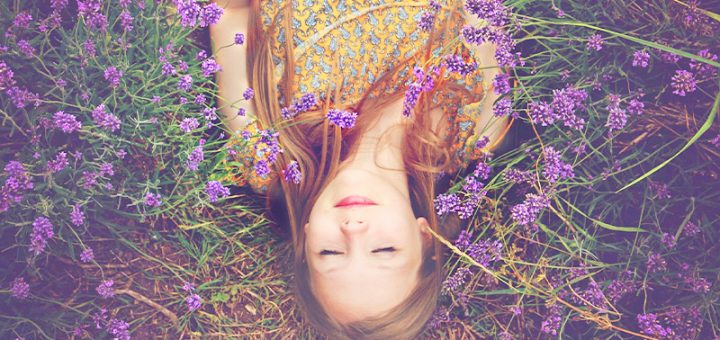 There are those of us who sweat when it's hot or when we are nervous. Are we dealing with sweat odours properly?
There are more people who are sensitive to other people's body odour than we think, even if we don't smell it. Of course, there will be some who are concerned about other's body odour, even if we don't mind it!
We shall be introducing a number of products today which you can use to prevent sweat odours, including some of which we would like to carry with us while we're out.
---
The link between sweat and smell
Sweat come from the sweat glands in our bodies, which activate upon heat or nervousness. It is odourless at first when the body produces it. However, sweat odours and skin trouble can occur if we leave it alone.
Sweat odour develops
Sweat odours occurs when bacteria present in fats and proteins of the skin are broken down by amino acid.
Skin trouble
Skin with sweat attracts dirt more easily than clean skin, and this consequently leads to an environment where bacteria can breed easily. Furthermore, accumulated sweat makes the skin more susceptible to external stimulation. This could lead to skin rash or heat rash.
---
Choosing products to deal with products
We should keep out skins clean by wiping away sweat before sweat odours develop or our skin gets overstimulated.
On inspection, we can divide products that deal with sweat into different types of usage and experience. Therefore, we can choose accordingly to our needs and preferences.
---
Products for sweat – Body Sheet Types
Sheet types can be used for either when we have sweated, or when our skin are starting to feel sticky. It may just be a simple sheet, but there are various ways to use the products, depending on the product. Furthermore, they have additional benefits:
1) Fragrance type, that provides a good scent; and
2) Deodorant type, that prevents smells from building up.
It's more refreshing to use than towels and handkerchieves, while leaving the skin feeling smooth with a good fragrance.
KAO Biore Sarasara Powder Sheet Aqua Oasis Rose Scent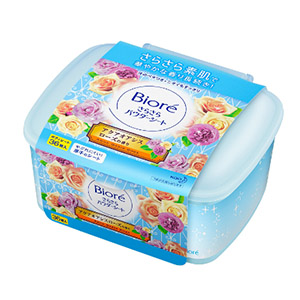 (via kao.co.jp)
Biore's Sarasara Powder Sheets is highly popular among females because of how comfortable they are to use. In fact, the scent gets renewed annually, which adds to their popularity.
The texture of the sheets feels like you are wiping with a towel when you use them, even though Biore's body sheets are thin.
KAO Biore Sarasara Powder Sheet Fragrance Magic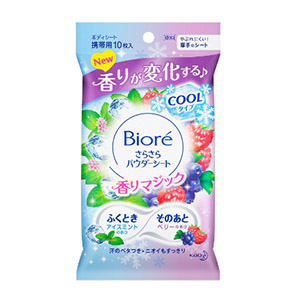 (via kao.co.jp)
The Biore Sarasara Powder Sheet Fragrance Magic is sold in a size that is easy to carry around. The fun in this series is in that the scents are different while you are wiping and after you have wiped. The Fragrance Magic sheets are cooling types, which lifts its users' body heat with comforting coolness!
MANDOM Happy Deo Body Sheet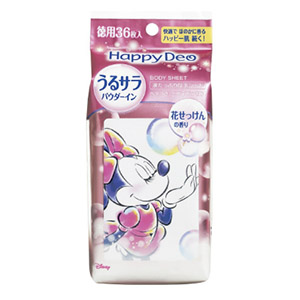 (via mandom.co.jp)
These body sheets are large and thick, so a piece is all you need to cleanly wipe any stickiness off. There are two types available. You can either choose the "Powder In Type" for a smooth feel on the skin, or the "Ice Type" for a refreshing use. I think that the Happy Deo Body Sheet with Disney design has its own type of attraction ♪
---
Products for sweat – Gel-, Cream-type
Gel and cream types can be used by applying an appropriate amount on the skin directly, especially when we are concerned about any sweat or odours.
They have a demerit of needing to wipe your hands after applying. However, they stay on the skin and is resistant to sweat, therefore they last quite long for effectiveness. Benefits also include the ability to resist sweat and prevent odours, making them doubly suitable for application before sweating begins.
Seabreeze Deo & Gel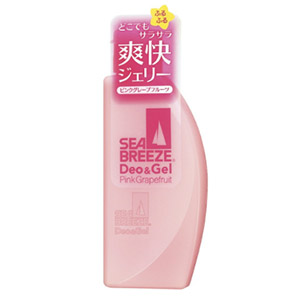 Seabreeze is popular regardless of gender because of the cute packaging, and the variety of scents we can choose from.
This year Seabreeze released a new gel type (this comes on top of the classic water type ★). The gel texture doesn't drip easily, so it is easier to apply than the water type. You will feel the cool freshness upon applying it, which you will lose any sticky sensation that was on your skin!
KAO 8×4 Waki Ase Ex Cream Capsule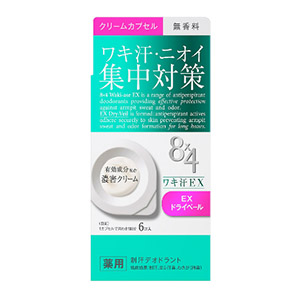 (via kao.co.jp)
The 8×4 series is extremely well-known for its ability to control sweating. The cream from one 8×4 Waki Ase Ex Cream Capsule is used between both underarms. The cream lasts even if there is sweat, since the cream is highly enriched with beneficial ingredients. Its compact size also fits into a pouch without being bulky.
---
Products for sweat – Direct Application
Most of the "apply directly" types come in stick types or roll-on types. They are very effective in sweat control and odour prevention because we are applying them directly onto the skin. It is recommended for outings, especially since we don't get our hands dirty from using it.
Rohto Wakire Deoball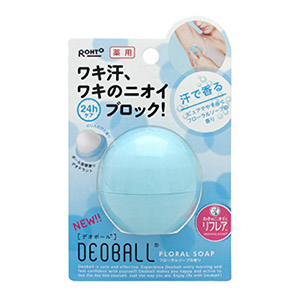 This ball-type deodorant takes care of sweat and odours in one swipe. A fragrance sensor is formulated into it which reacts to sweat odours. Therefore it changes unpleasant odours into good fragrances!
Wakire Deoball CC Brightup Beige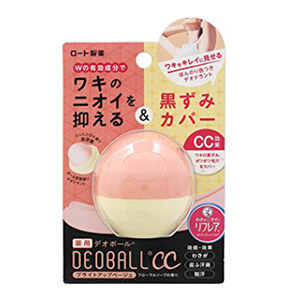 This Deoball doesn't just suppresses sweat odours. It is also formulated with fine powder that is able to cover the pores and darkened skin on the underarm. Do give this a try if you remove unwanted hair by yourself, or you are concerned about dark underarms.
Deonatulle Soft Stone W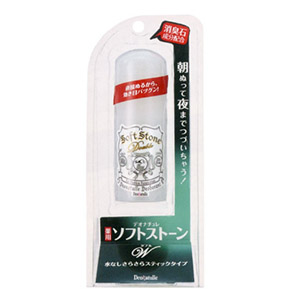 (via deonatulle.com)
This Deonatulle deodorant is made from natural alum that has a high anti-bacterial and sweat controlling effects. This is gentle on the skin too, because it is made from natural ingredients, without need for colourants or scents.
Alum is able to create a layer of membrane that is not visible to the eye, and it is able to prevent bacteria responsible for odours from gathering. Therefore this is an excellent item for getting rid of odours and preventing odours from developing.
You can choose from the cooling peppermint oil type, or the colour control for underarm dullness type!
---
What we have learnt!
We now know that sweat is originally odourless. Instead, odours develop when we ignore sweat without taking proper care. Surely we'll be able to upgrade our sweat care after reading the suggestions in this article. We'd all like to become females carrying a wonderful scent!
---

---
| | |
| --- | --- |
| :: SKIN TROUBLE :: | :: SKINCARE :: |
| | |