Which Panasonic Negative Ion Hair Dryer to Choose?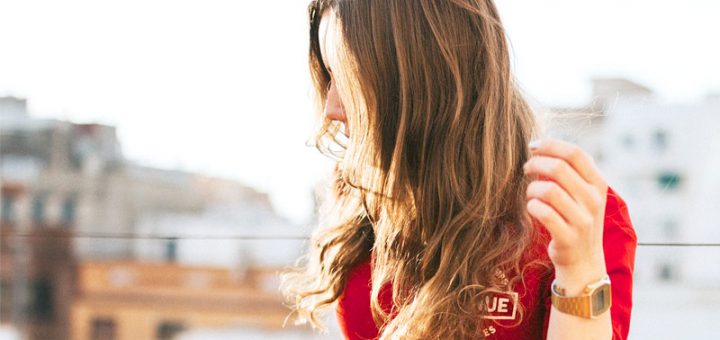 What do you look out for when choosing a hair dryer? Maybe the price is reasonable, or maybe its been highly rated. But is it really suitable for your hair? We are going to look at the highly popular Panasonic Negative Ion Hair Dryer to look at its functions and what kind of benefits it'll bring.
---
Firstly, why Negative Ion Hair Dryer?
Most dryers are made only for drying hair. However, there has been a recent increase in number of people considering hair dryers as part of their hair care tools.
Negative Ion Hair Dryer releases negative ions through the dryer opening or a generator within the dryer. It promotes the hair's ability to retain moisture through the absorption of the beneficial Negative Ions. This subsequently increases the handling and shine of the hair, which explains its popularity among females for hair care. ♪
In fact, Nano Ion Hair Dryer have recently gained attention, which are supposedly better in helping the hair retain moisture. Not only do they improve the handling and shine of the hair, Nano Ion Hair Dryers can also improve the quality of the hair.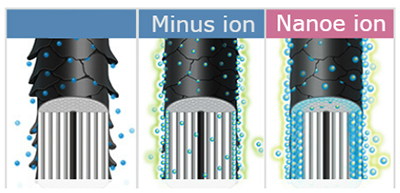 ---
Comparing Nanocare and Ionity
There are many hair dryers under the Panasonic line of products which decrease the amount of damage the hair takes. Within are two of the most popular series, Nanocare and Ionity.
Ionity Series
Feature: The hair dryers of the Ionity series are compact-sized to produce the strongest air flow in the industry, which is used for powerful hair drying. Since Negative Ions are weak towards heat, they are released through another opening produced by a generator. Although it does not have Nano Ion benefits, the price is comparatively lower for anyone considering trying an Ion hair dryer.
Nanocare Series

Feature: The Nanocare series releases Nanoe (Nano-E, aka Nano Ion) and double minerals in order to dry and provide care to the hair. Nanoe is created by Panasonic, and is said to hold 1,000 times more moisture than Negative Ion. As such, not only does the scalp and hair gets moisture, Nanoe is also able to deal with brittle hair or hair with split ends.
About Nanoe
1) Improvement of crooked hair
Nanoe is fine enough to penetrate into the hair to restore moisture balance, thus preventing the hair from turning out crooked.
2) Get better hair quality
The opening of hair cuticles is the cause of parched, dried out hair. Not only does Nanoe closes the hair cuticles, it tightens the cuticles to give the hair a moist texture.
3) Improve scalp troubles
The Nanoe also gives the scalp moisture. This will help improve scalp issues since as dry scalps, scalp itch and dandruff.
---
Product comparisons of Panasonic Negative Ion Hair Dryer
Panasonic Hair Dryer Ionity EH 5206P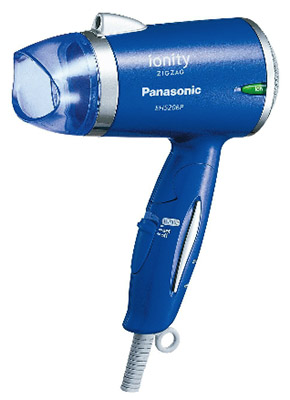 Type: For overseas
Colour: Blue
Power: AC100~120V/200~240V 50-60Hz
Even though it's light and mini-sized, it is able to deliver Negative Ions to the whole hair strand. The biggest feature is how it manufactured for overseas use. When compared to normal hair dryers, the air flow strength of may be weaker. However, it is best suited for traveling around and such.
---
Panasonic Hair Dryer Ionity EH-NE68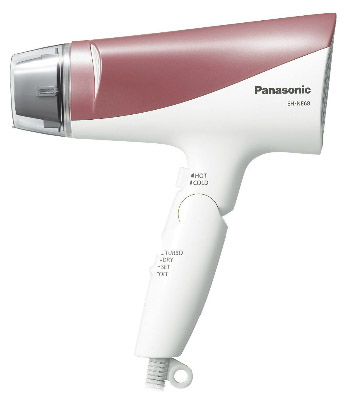 Type: Powerful Dry
Colour: Pearl Pink / Silver
Power: AC100V 50-60Hz
This hair dryer offers Negative Ions and strong air flows to dry hair faster. Its functions include:
Double external Ion outlets
Separating the main dryer and the ion outlets allows the moisture in Negative Ions to be protected from the heat of the dryer's air flow. Furthermore, two Negative Ion outlets mean that they can reach a wider area.
Warm/Cool Twin Flow 
While blowing warm air, the outlets release cool air flows. This warm and cool combination increases the shine of each strand of hair.
Quick drying nozzle
Instead of using a constant air flow strength, the hair dryer releases strong and weak air flows, which increases the hair drying speed by 15%.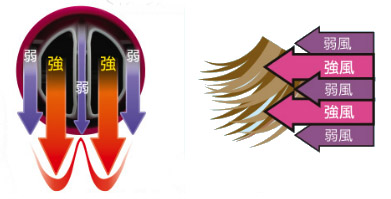 ---
Panasonic Hair Dryer Nanocare EH-NA59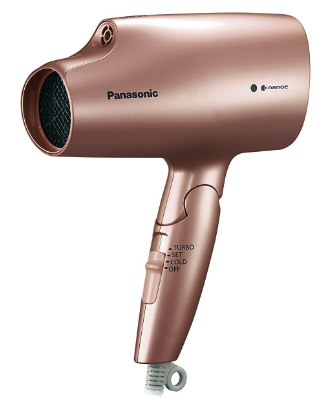 Type: For Overseas Use
Colour: Pink Gold / Silver
Power: AC100~120V/200~240V 50-60Hz
The Nanocare EH-NA59 is a nano-care series that is made for use for oversea use. It can be used without need of a transformer, which is popular among travellers. Of course, other than Negative Ions, the hair dryer also moistures the hair deeply and keeps static electricity away.
Benefits of using the Nanocare EH-NA59 includes:
Quick drying nozzle
Same as the Ionity EH-NE68, the alternating strong and weak air flows increase the hair drying speed by 15%.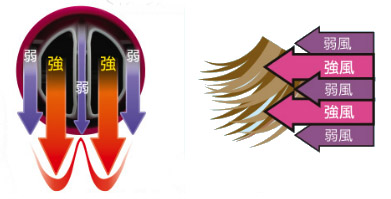 Cool air functionality
The cool air mode allows users to use both warm and cool air to bring out the shine in the hair.
Voltage Switch (AC 100-120 V ⇔ AC 200-240 V)
It's easy to switch voltage depending on your location. A C-2 Adaptor also included.

---
Panasonic Hair Dryer Nano Care EH-NA99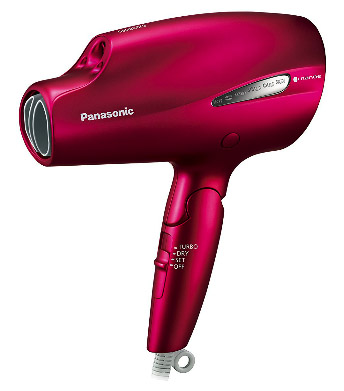 Type: Improve hair quality / UV Care
Colour: Pink Gold / White / Rouge Pink
Power: AC100V 50-60Hz
EH-NA99 is a new model released in September 2017. This is considered to be Panasonic's best hair dryer because it allows adjustments to the air flow and temperature. Its functions include:
Warm/Cool Rhythm Mode
This mode alternates warm and cold air flows, which increases the shine in hair by 1.2 times and prevents crooked hair.
Hair Tip Intensive Care Mode
Made to focus on hair tip using alternating warm and cool air flow, and provides consistency to the hair tips.

Intelligent Warm Air Mode
Heat sensors allow the hair dryer to adjust air flow temperature according to the season.
Scalp Mode
This mode releases low warmth air for skin care. By controlling the temperature to stay at around 60 degrees, damage to the hair roots are reduced.
Skin Mode
After drying the hair, use this mode for 1 minute on the face. This will help users to get skin with better moisture retention.
---
In Conclusion
Even when we talk about Panasonic, it has so many different types of hair dryers that it can be difficult to pick from. Therefore, you'd want to choose according to what benefits you want or what types of functions you'd like to try.
(pictures via panasonic.jp)
---

| | |
| --- | --- |
| :: HAIR CARE :: | :: MUCOTA FOR HAIR :: |
| | |